LG Stylo 4 Review
13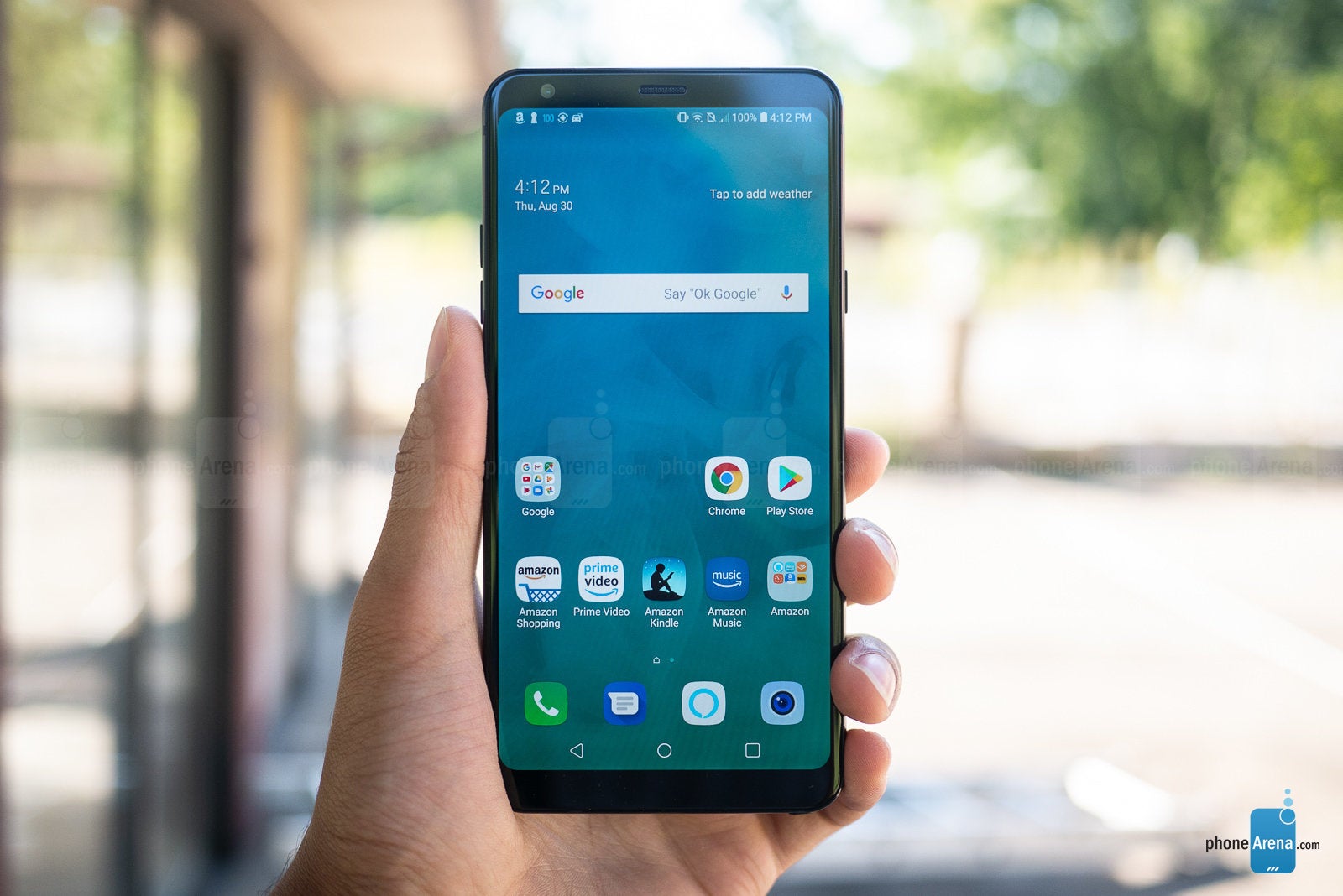 So, you heard about the latest
Samsung Galaxy Note 9
and thought "hey, a good phone with a big screen and a stylus – sounds cool!" then you saw the $1000 price tag and said, "not for me"? Well, what if we told you there's another phone with a stylus selling for less than a third of the price? We know, you're thinking "there must be some compromises" and while that may be true, you might be surprised to learn how few. Allow us to introduce you to the
LG Stylo 4
.
Selling for $300, or $250 through Amazon Prime, LG's lower mid-range device may not have Bluetooth enabled on its included stylus but offers users some of the same functionalities of higher-end devices, like the Galaxy Note 9, but at a different price point. This makes the Stylo 4 a rare device in that regard, but when it comes to price, this field is pretty packed. Did LG do enough to make the Stylo 4 stand out? Or is it just a one-trick pony?
LG Stylo and stylus
USB-C Fast Charging cable and adapter
Cleaning cloth
Warranty and Quick Start booklets
Design
LG's Stylo 4 is actually a decently stylish mid-range phone. Bezels are on the smaller side and the display's rounded corners and 18:9 aspect ratio give the Stylo a bit of a higher-end aesthetic. The aluminum sides add to this look and in-hand feel; chances are you wouldn't guess this phone costs $300 by just looking at it sitting face-up on a table, and that's a nice perk.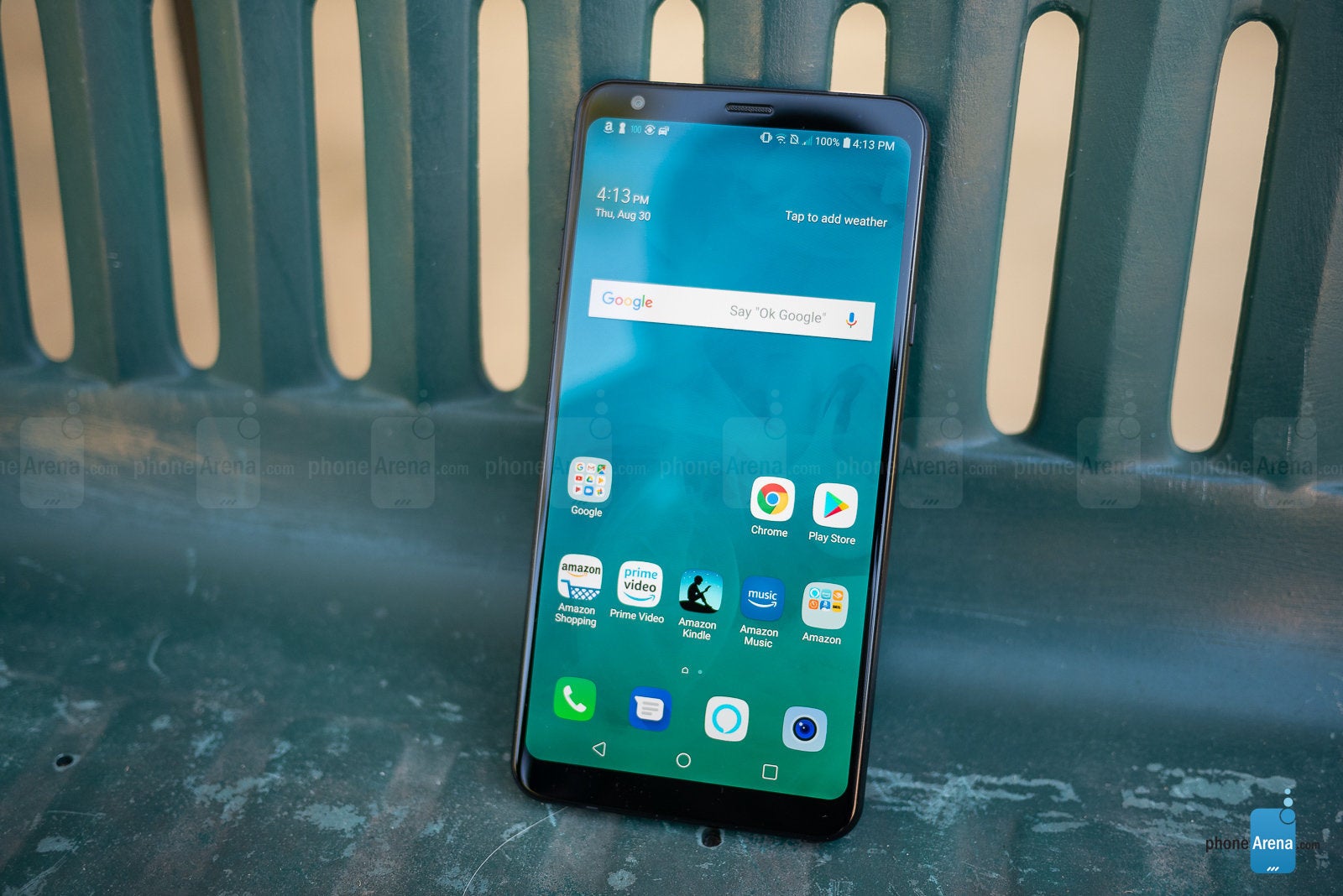 It is a lighter device, though – something we're certainly not complaining about, but may give some indication of its price point when picking it up. Turning it around will also be another indicator due to its plastic backing. Still, the LG Stylo 4 holds a decent aesthetic, and feels good in the hand thanks to its metal sides.
Along the bottom edge is where you'll find the included stylus, which, being a stylus and not a digital pen, has no battery or electronics of any kind and is therefore quite skinny. The experience of writing with this accessory is best compared to that of taking out the ink cartridge of a ball-point pen and writing with that – it's that skinny. So, while not our favorite in terms of ergonomics, it does get the job done. More on that later, of course.
Display
LG went with a 6.2-inch, Full HD+ (2160 x 1080 px) LCD display on the Stylo 4 and the results of which are mostly satisfying. Colors appear somewhat accurately, although there is a slight tendency towards a bluish tint. Reaching 476 nits at maximum brightness and 3 nits at minimum, the Stylo 4 is easy to see and read in almost any lighting.
Display measurements and quality
Interface

and Functionality

When it comes to the interface, LG has equipped the Stylo 4 with LG UX 7.0 built on Android 8.1, Oreo – the same combination you'll find on the higher-end LG G7 ThinQ and V35 ThinQ. While performance naturally will have some differences due to lower-end processing components, the general layout and look will be quite similar. Our Prime-exclusive Stylo 4 comes with a suite of Amazon software, including Alexa, worked into its layout. Unfortunately, Alexa can't be summoned by your voice alone, and must be triggered via the software button before fielding requests.

Fingerprint gestures are also incorporated, enabling functions like triggering the camera shutter, capturing screenshots, or opening and closing the notification bar. These are nice additions to an already fast and responsive piece of biometrics.

Overall, the experience here is tidy, good-looking, and intuitive – characteristics we also appreciate in the additional stylus-related software bits.
Pen functions
The included stylus provides the most unique features of this device which include functions for screen-off memos, screen capture and markup, and quick memo features. Screen-off memo can be switched on or off via settings, and once enabled, allows the user to simply pull out the stylus while the screen is off to start writing a quick note from the lockscreen, which is then saved to your QuickMemo+ notebook.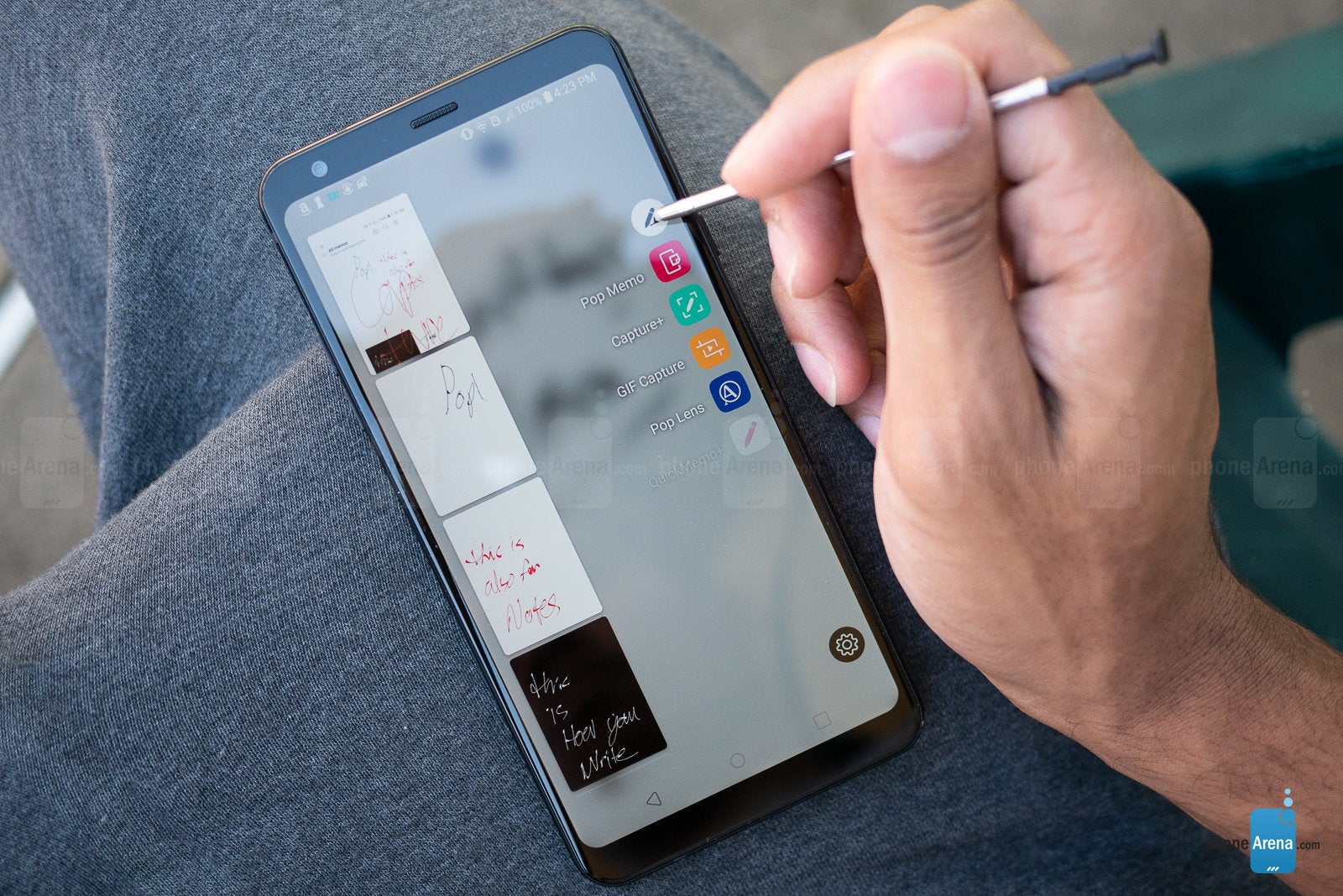 Within the OS, pulling out the stylus brings up a floating icon which, much like the floating bar we've seen on other LG devices, provides shortcuts to various apps and functions. Being a pen-related feature, the first few of these five default shortcuts are for quick memos, as well as screen capture and editing. Any app can be swapped into one of the five slots, though.
Writing with the pen is easy and responsive, but no hand rejection software is at work and the pen is rather skinny, so the writing angles aren't the most comfortable or natural. We also hope that QuickMemo+, the default note-taking app, will soon gain functionality for its eraser to delete entire strokes, rather than having to trace pixel by pixel to erase your marks. Even without a battery in the pen, though, LG's created a location-based feature which reminds you that you're walking away from your pen if you get up and do so.
Processor

, Memory, and Performance

Equipped with Qualcomm's Snapdragon 450, 3 GB RAM, and 32 GB storage

(expandable via MicroSD), the LG Stylo 4 unfortunately isn't the smoothest operator. While we wouldn't necessarily call our experience buggy, we did run into a few force-closed apps, and general navigation seemed a step behind; stutters and hangs were easily apparent in multitasking and app-launching. It's not an overly frustrating experience but it certainly isn't the best, even in this price range.
Connectivity
The Prime-exclusive variant of the Stylo 4 comes with all the proper antennas to work on 4G LTE with Sprint, Verizon, AT&T, and T-Mobile, and of course, any prepaid carriers using their towers. We also very much appreciate the inclusion of USB-C fast charging. Otherwise, you'll find the requisites like Bluetooth 4.2 and dual-band Wi-Fi, but no NFC, and therefore no Android Pay.
LG Stylo 4 Camera Quality

Packing a 13 MP, single camera, the LG Stylo 4 has the requisite functions you'd hope to find in this department, and not much else. This means functions like auto-HDR, phase-detection autofocus, and filters are all included.
In terms of performance, the LG Stylo 4 is a formidable point-and-shooter for this price range. The camera focuses quickly and exposure, though not always perfect, does its job in short order, as well.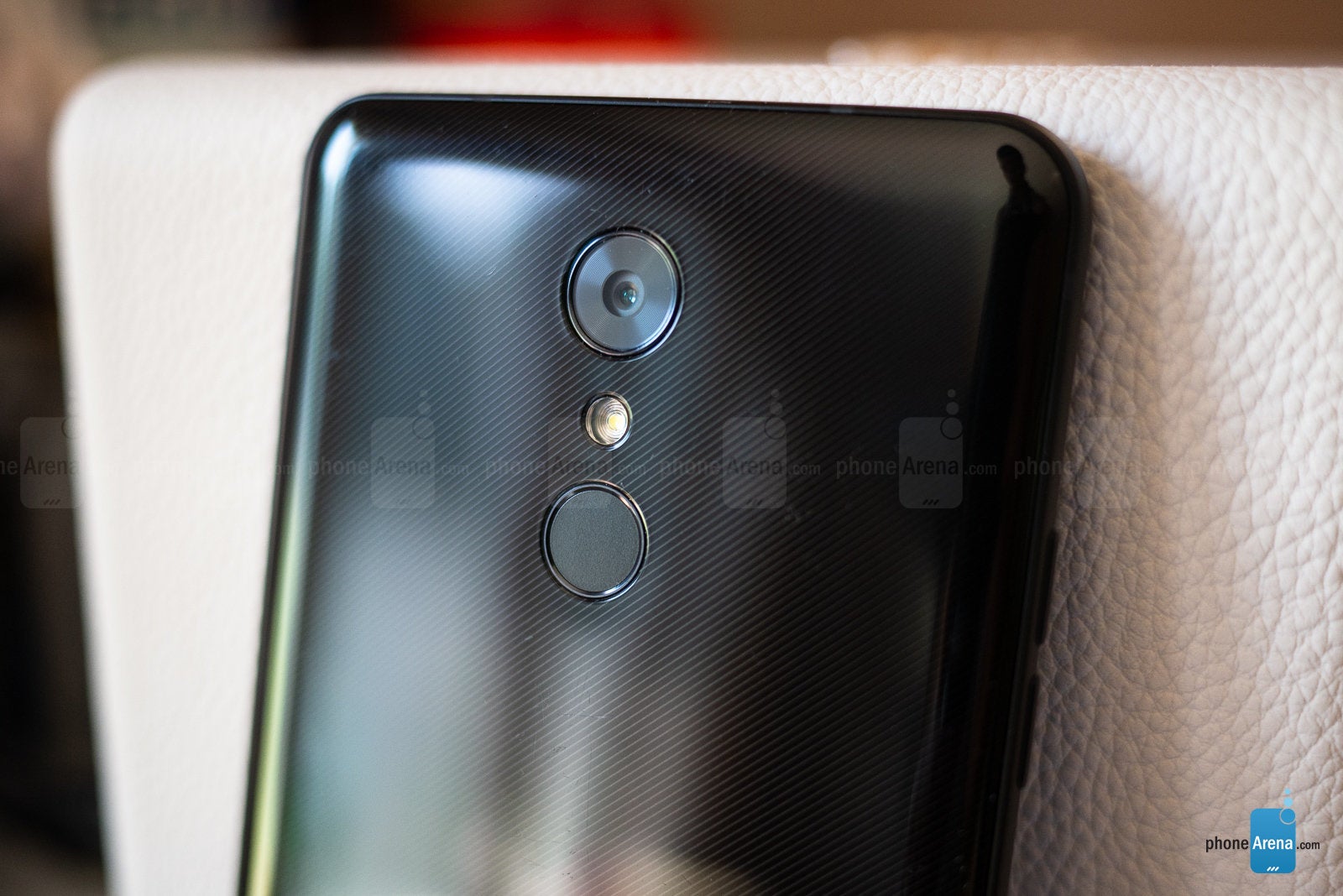 Color capture is solid, displaying very good color accuracy. The only thing that can get in the way of this is the camera's tendency to sometimes overexpose brighter areas. It also has some troubles with letting in movement in lower-light scenarios, obscuring its otherwise impressive proclivities in detail capture by blurring areas of the shot – textures, and text can get a bit muddy. Otherwise, colors and details are very well-captured in ideal lighting, such as bright landscapes. The LG Stylo proves to be an impressive shooter for outdoor adventures in the day time, but night time shooting's shortcomings are more apparent.
The LG Stylo's 5 MP front-facer shoots some pretty good-looking selfies too; details and color capture look pretty on-point. Using the switch to capture a wider field of view is easy and effective, as is the experience using portrait and beauty modes. Auto-beauty cleans up blemishes well but can appear noticeably airbrushed, while the portrait features do a solid job separating the background and creating a pleasing bokeh effect.
QLens is a camera mode meant to add a bit of AI functionality to the Stylo 4, but instead of using algorithms to improve photo capture, QLens is more akin to Google Lens in its feature set. Functionalities within exist solely to photo-search Pinterest and Amazon, or scan QR codes. Predictably, it's not very useful or effective.
Video
Video capture tops out at 1080p on the Stylo 4 and results are a bit mixed. While audio sounds loud and clear, and color accuracy is high, details are a bit grainy of course at 1080p, and there's a pronounced bit of stutter and jitter when moving the camera – even at slow speeds. Exposure too is a bit slow to adapt, and overall not quite as adept as in photo capture.


Call

Quality

The calling experience on the LG Stylo 4 is a pretty good one. We had no issues with dropped calls or connection, but the rear-mounted speakerphone could use a little more oomph, and we mean in both decibels and bass. The earpiece does its job well, though, and should be easy enough to hear in most environments.
Battery

Life

Clocking a very solid nine and a half hours in our custom battery drain test, the Stylo 4 performs quite well in the battery department. In our day-to-day usage we averaged over a day of use, even with heavy use. Fast charge was also nice to have, juicing up the phone's 3300 mAh battery in about 90 minutes.
Conclusion
LG's turned in a decent performer in most regards with the Stylo 4. The camera's quite impressive and note-taking abilities set it apart from other devices. Nailing the basics like the screen and battery life help round the device out, but the computing performance leaves something to be desired. It's not unusable by any means, though, so it may be a worthwhile compromise for everything else the Stylo 4 has to offer.
Being a stylus-equipped device helps narrow its competition a bit, but there are other large-screened devices in this price range to consider. This includes the Moto E5 Plus and G6, for instance. Both of which perform better than the Stylo when it comes to speed and fluidity and compete well in the camera department, as well. The E5 Plus also has a massive 5000 mAh battery to sweeten the deal. Not to mention the Nokia 6.1 lives in this price range and has similar strengths in processing and photography.
If size is of no consequence to you, then the Essential PH-1 is typically found in this price range, as well. Even LG's own G6 can be had for just about $100 more as a Prime exclusive. But, of course, if a stylus is what you desire, the Stylo 4 will provide you a decent device to go along with it.