T-Mobile will offer two phones and two unlimited lines for $100 a month to break you up with Verizon
5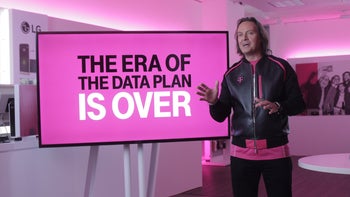 Not to be outdone by
Verizon
, T-Mobile wants its customers to have an extra reason to celebrate Valentine's Day too this week. Or you can just forget about the conventional commemoration of love and observe an entirely new national day. In yet another unorthodox publicity stunt, the always popular and eccentric "Un-carrier" is starting a tradition that will
forever be known as "National Break Up with Your Carrier Day."
That's... a bit of a mouthful, honestly, but the deals are pretty cool and straightforward, which is what matters more than anything. For the first-ever National Break Up with Your Carrier Day, T-Mobile has prepared a combo promotion with two unlimited lines and two decent phones available at a grand total of only $100 a month. Eligible handsets include the T-Mobile Revvl, Revvl Plus, Revvl 2, LG Aristo, Aristo 2 Plus, K20 Plus, Samsung Galaxy J3 Prime, Galaxy J3 Star, and Moto E5 Play.
Those are typically not very expensive anyway, but on Wednesday, February 13, you can basically get any two units from the list at $10 a month (for both) with payment plans. Your two lines of T-Mobile Essentials service will cost an extra $90 a month, including unlimited talk, text, and data, as well as
a few restrictions and caveats
.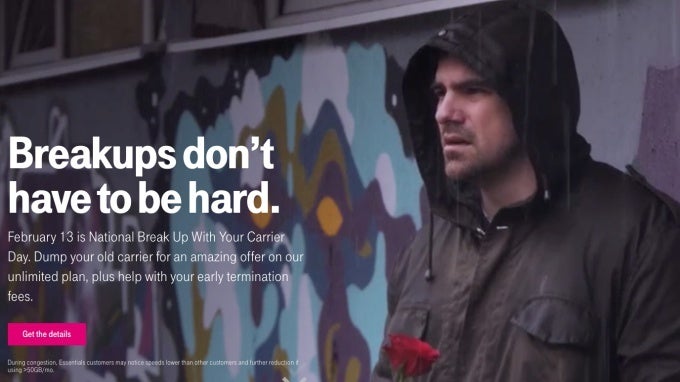 All in all, you're not saving a fortune compared to the typical prices of two of those aforementioned phones and two Essentials lines, but this is a great reminder of
T-Mobile's often unbeatable rates
.
Separately, a bunch of "superphones" like Samsung's Galaxy Note 8, Galaxy S9 and S9+, as well as Google's Pixel 3 and Pixel 3 XL, and "others" are being added to Magenta's #GetOutoftheRed promo in celebration of National Break Up with Your Carrier Day.
That means you can bring any of those ultra-high-end devices to T-Mobile with little to no hassle now, and the nation's third-largest wireless service provider will give you up to $650, no questions asked, to cover your outstanding Verizon balance. The number one requirement is still to sign up for a T-Mobile One Plus plan after switching networks, so you'll need to pay $85 for a single line of service.