T-Mobile customers will be able to eat like kings for free yet again next Tuesday
2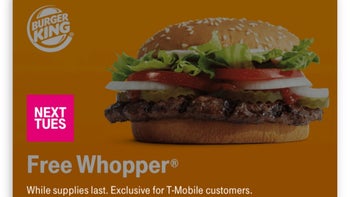 As promised
a couple of months ago
, T-Mobile continues to give its devoted customers the royal treatment while Verizon and AT&T subscribers are constantly getting "royally screwed." Well, we don't know about the latter, as we'd rather not stir any controversy regarding which US carrier (or "Un-carrier") is better and why, but it's definitely hard to argue with the former when Magenta is cooking up yet another killer gastronomy-related deal you can claim through the T-Mobile Tuesdays app with no effort whatsoever.
That's right, if you hurry, you'll be able to once again grab a delicious Whopper (made of meat) from Burger King without paying a dime for it or having to buy other BK items next Tuesday. Yes, the deal is really as simple and as straightforward as it sounds, but quantities are limited, so you'll definitely want to get in early to make sure you're not left with an empty stomach.
Of course, if you feel that a single 660-calorie hamburger will not be enough to satisfy your hunger, you can always supplement your decidedly unhealthy but arguably tasty meal on the house with a Taco Bell item of your choice. Other recurrent deals you'll be able to claim yet again next Tuesday include reserved tickets to Live Nation shows, up to 40 percent off hotels at Booking.com, and $0.10 discounts per gallon of Shell gas.
Meanwhile, T-Mobile will also partner with Walgreens to bring back a popular promo that hasn't been around in a while, offering each Magenta customer the opportunity to print 10 free 4x6 photographs. Last but not least, the luckiest of the "Un-carrier's" subscribers will win $1,000 in movie tickets from Atom as part of the next weekly sweepstakes.