Feature-packed Skagen Falster 2 smartwatch goes 58 percent off list to a crazy low $123
4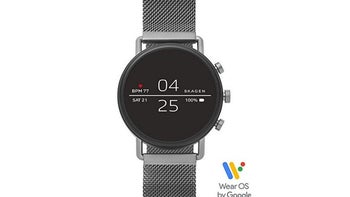 While Apple is without a doubt
the main driving force
behind
the impressive recent growth
of the
global smartwatch market
, major companies like Samsung, Fitbit, Huawei, and Garmin also deserve plenty of praise for offering robust alternatives at competitive prices.
Unfortunately, it's still hard to find ultra-affordable, full-featured Apple Watch rivals. Samsung's
Galaxy Watch
, for instance, normally costs $330 and up, while the $200
Fitbit Versa
comes without standalone GPS connectivity, having to rely on your phone to accurately track its wearer's location and runs. But if you like minimalistically designed gadgets from traditional fashion brands, Skagen has a very nice surprise in store right now.
The Falster 2 is available for a crazy low $123 through the company's official US website, dropping from an arguably excessive $295 list price. That's a mind-blowing 58 percent discount, which makes this simple but decidedly stylish intelligent timepiece a whopping $277 cheaper than an entry-level
Apple Watch Series 4
variant (at its standard retail price).
Commercially
released less than a year ago
, the Skagen Falster 2 runs Wear OS on the software side of things, which means it has access to its very own version of Google's Play Store while also supporting voice assistance and, thanks to built-in NFC technology, wrist payments. Compared to its (
occasionally even cheaper
) predecessor, this bad boy adds a GPS chip and heart rate monitor into the equation as well, essentially doing everything the much costlier Apple Watch can do, except save lives and make voice calls on its own.
It goes without saying this incredible deal will probably not last long, and although the Skagen Falster 2 comes in a variety of materials and colors, the heavily marked-down price of $123 is only good for a gray magnetic-steel mesh model.
Recommended Stories