Believe it or not, you can now save up to $420 on the Galaxy S10, S10+, and S10e (no trade-in)
1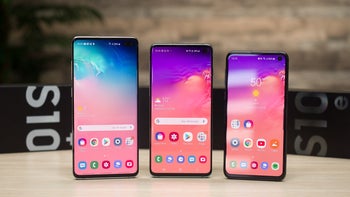 Believe it or not, there are even bigger savings available at Best Buy
than Costco
right now, including a massive $400 off the regular price of an entry-level Galaxy S10 Plus configuration with 128GB internal storage. Unlike Costco's promotions, however, these hefty markdowns are exclusively good with monthly installment plans on Sprint.
Starting with the humblest member of the Galaxy S10 family, Best Buy will let upgrading Sprint customers save a cool 200 bucks, while those activating new lines of service or opening altogether new accounts can get a whopping $390 off a list price of $749.99. That's right, you can pay as little as $15 a month for two years for the exceptionally well-reviewed
Galaxy S10e
, amounting to an insanely affordable grand total of $360. No trade-in required, although the discount will be applied to your bill as monthly credit. With an upgrade, the S10e currently sets you back $22.91 a month for 24 months, or around $550 all in all.
Meanwhile, the "regular"
Galaxy S10
, which normally costs $899.99 and up, can be yours today for no upfront payment, followed by monthly installments as low as $20. After two years, that means you'll be spending a measly $480 for a Snapdragon 855 powerhouse with a dual-curved 6.1-inch Super AMOLED screen. If you're looking to upgrade an existing Sprint line rather than activating a new one or getting a new account, the overall price will go up to roughly $750 after 24 monthly payments of $31.24 a pop.
Last but certainly not least, the jumbo-sized, dual front camera-sporting
Galaxy S10+
is currently down from a list price of $1,000 to a very palatable $600 with device payment plans requiring monthly installments of $25 over a period of two years and monthly bill credits of $16.67. Once again, that massive discount is available with new Sprint lines or accounts, while existing subscribers wanting to upgrade to probably the best phone in the world right now are looking at 24 monthly payments of $35.41, amounting to $850 when everything is taken into consideration.