Best Cyber Week tablet deals 2022: here's what we saw
1
We may earn a commission if you make a purchase from the links on this page.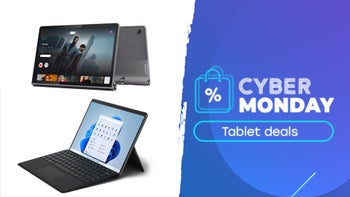 The big shopping spree that was Black Friday and Cyber Monday (and Cyber Week) is officially behind us now, and boy was it a crazy one indeed. Tablets, more specifically, received some major love from almost all of the major retailers, carriers, and Samsung. In fact, like with many other tech products, Cyber Monday 2022 offered much more appealing deals on Android tablets and iPads compared to last year.
We saw great discounts across the board, including all notable names when it comes to tablet manufacturers, such as
Apple
,
Samsung
, Lenovo, Amazon, and
Microsoft
. Now it is time to reflect on what we saw, and bring all the pieces of the major tech shopping event into one big picture.
Samsung Galaxy Tab deals
Just as you would suspect from Samsung, there were massive trade-in discounts on its Galaxy Tab tablets this Cyber Monday. We are talking up to 89% price cuts as long as you had an eligible trade-in device. These awesome trade-in offers from the tech manufacturer brought the Galaxy S8+ as low as $99.99, or the S8 Ultra to just $399.99!
But it wasn't all trade-in offers that we saw with Galaxy Tabs. There were also plenty of discounts with no strings attached to them that brought the prices down considerably. For example, the Galaxy S8 Ultra was going for $300 less at BestBuy, which brought its overall price to $1099.99. Amazon, on the other hand, had the Galaxy S8 down by $165, amounting to a final price of just $385.
iPad Pro deals
As a somewhat surprise to many, Apple's 12.9-inch iPad Pro and 11-inch iPad Pro from 2021 got some great discounts at Best Buy, with the former down by $300 and the latter by $149. What makes this even better, is that both of these high-end tablets, even though they are one year older, will practically deliver the same user experience as their newer counterparts from 2022. In other words, these were some amazing offers for two top-performing devices.
Apple iPad Air and iPad mini deals
It was not only the large Pro iPad models that surprised us though. Both the iPad mini 6 and iPad Air (2022) popped up on Amazon with notable discounts. The iPad mini 6 was going for $100 less, while the 2022 iPad Air was $80 cheaper, despite its very recent release! This Cyber Monday was truly a great one to buy a new iPad.
Apple iPad 10.2 deals and iPad 10.9
Unfortunately, we did not get to see any discounts on the new entry-level iPad 10.2 that released last October, but the 2021 model was down by $60. This made Apple's most affordable tablet even more approachable and the perfect time to get a new one for your home.
Lenovo tablet deals
This year we did not see that many offers when it came to Lenovo tablets. The best we got was a 47% discount on the Lenovo IdeaPad Duet 3i at BestBuy, which amounted to $199.99 end price. The Lenovo Tab M10 Plus was also down by 35% at Walmart, making it $129.
Microsoft Surface Pro deals
If you are a fan of the Microsoft Surface Pro, than hopefully you made use of one of the good deals we saw this Cyber Monday. BestBuy had the Surface Pro 7+ down from $929.99 to $599.99, and the Surface Pro X from $899.99 to $599.99.
Amazon Fire deals
As per usual, Amazon had some outstanding deals on all of its tablets, regular and kid-oriented ones alike. More than a few of the models were hovering around 50% price cuts, so the savings here were quite significant.
Should I wait until Cyber Monday to buy a tablet?

No, it is better if you try and catch one of the Black Friday tablet deals instead, as they are usually more generous than the offers we see during Cyber Monday. However, if you happen to miss the opportunity, Cyber Monday could give you one more chance to buy your desired tablet at a more affordable price, so keep an eye in case you miss out during the first few days of the holiday season shopping spree.



Where to find the best tablet sales on Cyber Monday?
Cyber Monday is a major shopping event that every popular retailer participates in. Some of the best tablet deals during Cyber Monday 2022 will most likely be at places like Amazon and BestBuy, but also from the manufacturers themselves like Samsung and Lenovo. Another great place to find good offers are carriers like AT&T, Verizon, and T-Mobile.