Cyber Monday 2022 recap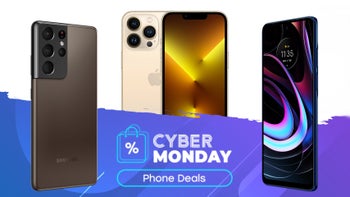 Cyber Monday 2022 is now over. Following all the great smartphone offers Best Buy, Walmart, Samsung, Amazon and others released for Black Friday, and those trickled into Cyber Monday, which itself became a whole Cyber Week, it's time for a recap!

If you wish to know what to expect during Cyber Monday 2023, in terms of which smartphones will get the best deals for this annual shopping event - you're in the right place! And feel free to bookmark this page to get the best phone deals once Cyber Monday 2023 comes around.
What were the best Cyber Monday phone deals?
Last Cyber Monday brought us some amazing deals on Samsung's cutting-edge folding phones, namely the Galaxy Z Fold 4 and Galaxy Z Flip 4. The Z Flip 4 was up to $180 off on retailers like Amazon, no strings attached!
The Galaxy Z Fold 4 was discounted pretty much everywhere. If you had a trade-in device, you could get it for up to an insane $1350 discount at Samsung.com. If not, other stores like Amazon offered it for up to $400 off, which is pretty amazing too, considering there were no conditions (trade-in, carrier locking). That's right, you could get the Z Fold 4's flagship performance with Qualcomm's then-latest and greatest chipset, versatile cameras, and almost endless multitasking possibilities for much less! Stay tuned for next Cyber Monday, when we expect similar deals for this phone's successor.
Galaxy phones did get the best deals on both Black Friday and Cyber Monday, so it's no surprise that we'll continue with the flagship, stylus-packing Galaxy S22 Ultra.
Samsung's own Cyber Monday deal on the Galaxy S22 Ultra could get you one with a discount of up to a huge $825! You could get $225 off instantly and up to $600 enhanced trade-in credit. Even if your trade-in device was cracked, you could save up to $315 on your new S22 Ultra (which was very generous!). Especially considering that without any discount, at bst the S22 Ultra started at $974.99. So it's not a cheap phone!
Similar fantastic Cyber Monday discounts were available for the rest of Samsung's S22 series, and all of its mid-range and budget phones too! The Galaxy S22 could be yours for up to $475 off with trade-in, the S22 Plus - up to $650 off (65%)!
The mid-range Galaxy A53 5G was a clean $100 off on Amazon, no strings attached! After all, we could argue that flagships these days are not mandatory, as affordable mid-rangers like this one do the basics perfectly well! The Galaxy A53 features a 6.5-inch FHD Super AMOLED display, stereo speakers for a surround sound feel, and a long-lasting battery for streaming your favorite content. So, anyone could get a great phone on Cyber Monday, and will be able to again in 2023.
Well, except maybe iPhone fans, as iPhones generally don't drop that significantly in price around Black Friday and Cyber Monday. But you could score an iPhone 14 Pro Max with a $300 eGift card at Walmart!
When is Cyber Monday 2023?

Cyber Monday 2023 starts on (surprise, surprise!) Monday, November 27, right after Black Friday and the following weekend. But, as always - we can expect early deals on phones, tablets, headphones and more to drop weeks in advance, so feel free to bookmark this page and stay tuned!
Are phones on Cyber Monday sold unlocked?

Yes, the majority of the phone deals are for unlocked phones, especially at Amazon. However, Best Buy and carriers also have Cyber Monday offers, and some of these are tied to a carrier contract. You should be able to get almost any phone unlocked with deals from Amazon or Best Buy, but do keep in mind to double-check the deal before you pull the trigger.


Is Cyber Monday a good time to get a new phone?

Yes, definitely! Cyber Monday deals at Best Buy and Amazon, especially, are rocking and such discounts are not available outside of these sales. Even carriers have better deals during shopping events, including Cyber Monday. Basically, if you want to get the best discount you can have on the phone you're eyeing, it's a great choice to go for it during Cyber Monday or Black Friday.



Are there any Cyber Monday deals available now?
Although Cyber Monday 2022 is over, deals unrelated to this shopping event come and go all the time. And we inform our readers of the best ones, so stay tuned to PhoneArena.com to take advantage of those! The most recent tech deals are as follows: