Best Cyber Monday Samsung phones deals 2022: our expectations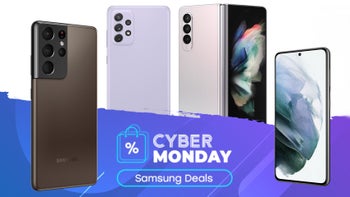 Samsung is one of the top Android phone manufacturers and it often runs great deals, especially during events like
Cyber Monday
. Last year that fact was proven with some awesome offers from
Samsung
, as well as all other big retailers like Amazon, Best Buy, and Walmart.
Given how many discounts there are on Samsung phones during the big online shopping event, we have made a list of the best Samsung Cyber Monday offers we expect to see in 2022. Our predictions are are based on whether any new models have come out, and the deals we saw in previous years.
So, let us take a look at what to anticipate for the upcoming Cyber Monday.
Also read:
Samsung Galaxy Z Fold 3 Cyber Monday deals
The
Galaxy Z Fold 3
was spotted for $450 off its original price on Samsung's website last year, if all the freebies and rebates were tacked on. Best Buy also had an amazing offer, selling the Fold 3 with a $400 discount with activation. What's more, Amazon also jumped in to offer the high-end Samsung foldable with a $300 price cut with no strings attached.
We expect to see even better discounts on the Galaxy Z Fold 3 during Cyber Monday 2022, especially after Samsung launches the anticipated successor—Galaxy Z Fold 4.
Samsung Galaxy Z Flip 3 Cyber Monday deals
The
Z Flip 3
did not see the same flashy discounts as its bigger brother, but nevertheless it still got a price cut of $275 on Samsung's website. Best Buy also also selling the little Samsung foldable for $500 less, albeit with activation required.
Just like with the Fold 3, the Flip 3 is also expected to be eclipsed by the next generation in 2022, so we expect even bigger discounts during Cyber Monday 2022 here as well.
Samsung Galaxy S22 Ultra Cyber Monday deals
Given the amazing discounts of $250 and above that the Galaxy S21 Ultra received during the last Cyber Monday we expect to see nothing less for the
Galaxy S22 Ultra
this year.
Samsung Galaxy S22 and S22+ Cyber Monday deals
The Galaxy S21 and S21+ were also going for $250 less on Amazon last year, which leads us to think that the new
Galaxy S22
and
S22+
will get the same discount treatment in the 2022 edition of Cyber Monday.
Samsung Galaxy S21 Ultra Cyber Monday deals
The
Galaxy S21 Ultra
was a beast of a phone and was already quite appealing when it came out. During Cyber Monday, though, it becomes an even more tempting buy, as last year its price went down with $250 on Amazon.
Given that the new Ultra is out now, we expect to see the discounts to go as high as $300 to $400 for the older model.
Samsung Galaxy S21 and S21+ Cyber Monday deals
The
Galaxy S21
one was one of the best, if not the best compact phone of 2021, and the S21+ gave customers the option to get a larger screen without paying a premium for the Ultra model. Both of these 2021 Samsung flagships were seen for $250 less than their original prices.
This year we expect even greater offers on these two bad boys, given that the new ones are already out.
Samsung Galaxy A series Cyber Monday deals
Unlike their more expensive siblings, the A series from Samsung does not get the same discount love from retailers, including Samsung itself. Well, that is of course if we don't account for trade-ins. With trad-ins the deals become more than generous, so if you are looking for a budget-friendly Samsung phone and have an older one to trade it for, you will have a great opportunity to do so once Cyber Monday 2022 comes around.
Is Samsung doing Cyber Monday sales?
Every year Samsung comes out with amazing deals on its Galaxy phones and many other Samsung accessories during Cyber Monday. The company is known for its big discounts and great bundle offers, which often find their way to Samsung's website around shopping events and special occasions, so you can expect some of the best Galaxy phones deals straight from the source.
Where to find the best Cyber Monday deals on Galaxy phones?
As we already mentioned, the best place to find deals on Galaxy phones is Samsung's own website. However, other big retailers such as Amazon, Best Buy, Walmart, and of course, all the US carriers. But if you don't want to spend too much time browsing for the best deal you can get on a Galaxy phone, just come back to this article where we will have all of them piled up for you!
Which Samsung phones get the best discounts on Cyber Monday?
Usually, the Samsung Galaxy flagships get the most worthwhile discounts during Cyber Monday. This year we expect some tasty offers on the Galaxy S22 series and
Galaxy Z Fold 4
and
Z Flip 4
. The more affordable options like the Galaxy A53 and Galaxy A73 are also bound to get some pretty good deals.