Best Cyber Week Galaxy deals 2022: The best deals on Samsung flagships this year!
We may earn a commission if you make a purchase from the links on this page.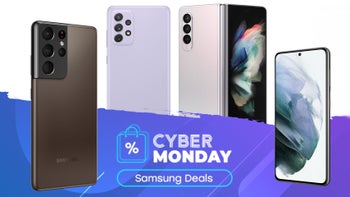 Cyber Monday
is now over, but that doesn't mean you're too late to the party (at least not yet!). Basically, many of the deals are still going on for Cyber Week (some of the deals have expired). Samsung's enhanced trade-in program gives you generous credit for a wide range of older phones and those are likely to continue throughout Cyber Week. Amazon has some great deals left as well. Some of Best Buy's deals have expired, and others now require carrier activations.
Here are all the best deals still live even after Cyber Monday has officially ended.
Here are the best Cyber Week deals on Galaxy phones

Almost the entire portfolio of Samsung phones, including the latest models, are getting some discount love. Samsung has the trade-ins and then we have Best Buy and Amazon with some cool discounts on simpler terms.
And if you're looking for a budget Galaxy, you're also in luck today! The Galaxy S21 FE, the Galaxy A53 5G and other budget models are still discounted as well. Don't forget that this might be your last chance for a deal of such magnitude in the near future!

Also take a look at:
Is Samsung doing Cyber Monday sales?
Yes, Samsung is rocking epic discounts on its hottest phones right now, as it does every year. Many Galaxy phones and other Samsung accessories are discounted. You can also enjoy some bundle offers, simply stunning trade-in discounts, and instant savings even if you don't have a phone to trade-in. We are safe to say that Samsung always brings the best offers on Galaxy phones, hands down!

Where to find the best Cyber Monday deals on Galaxy phones?
There's only one right answer to this question – definitely Samsung's own website. Every year Samsung stuns its fans with generous discounts on its hottest products, including phones. However, that doesn't mean that other retailers are not giving Galaxy fans great shopping options.

Amazon and Best Buy have launched some impressive deals as well, and most of them don't require any trade-ins or contracts, so these two retailers are also a great option to get your new Galaxy phone. Of course, all US carriers have offers as well, and those are awesome especially if your contract is about to expire, as you can get a big discount with a new line or plan!
Which Samsung phones get the best discounts on Cyber Monday?
Usually, the newest Samsung Galaxy flagships get massive price reductions during the Cyber Monday sale event. As you can see, ultra-expensive phones like the S22 Ultra or the foldable beast Galaxy Z Fold 4 are now way cheaper than they usually are. If you've been eyeing a foldable this year, now is the time to get it.

But that's not all! As Cyber Monday deals are available on almost every Samsung phone, even if you want to go for a more budget-friendly device, you'll be greeted happily with a nice discount (in the range of $100 off, which is great if you're on a budget!).