Samsung ramps up its foldable phone teasing games with a fitting company logo
4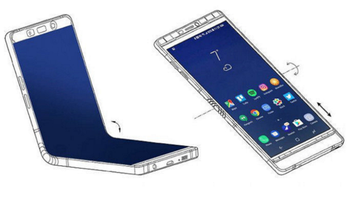 Samsung is almost ready to
unveil a foldable mobile device
that's been in the works for the better part of a decade, as
repeatedly teased
,
suggested
, and
even outright confirmed
by multiple company officials on multiple occasions over the past few months.
Unfortunately, the actual design and functionality of the 2-in-1 tablet/smartphone hybrid may have only been recently finalized. Mass production will reportedly start soon enough, but due to
a number of challenges
and uncertainty regarding consumer demand, sales are expected to be limited next year.
Nonetheless, it looks like Samsung plans to put on a big show this week at the company's Developer Conference in San Francisco. That
highly anticipated UI demonstration
is being
teased on social media right now
with a nifty reimagining of the Samsung logo, suggesting perhaps we'll see more than some vague presentation of the operating system Google is helping develop to better fit the foldable construction.

This could also be the beginning of an aggressive buzz-building campaign, so maybe the "Galaxy F" will hit stores in greater numbers than currently anticipated. Of course, these are just assumptions and, frankly, wishful thinking on our part.
Until we find out more about this almost mythical foldable product straight from the horse's mouth, the only concrete thing we have today is basically a foldable Samsung company logo. You have to admit that's a very cool concept, making us excited to see what else the world's top smartphone vendor might have up its sleeve in terms of advertising the
Galaxy F
.