More info on Samsung's foldable phone emerges, including screen size 'confirmation'
12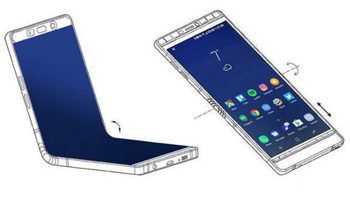 It's finally happening, ladies and gentlemen!
The world's first foldable smartphone
(
from a well-known brand
) is confirmed to
see daylight next week
... sort of. Technically, we may only get a general demonstration of the hardware design and unique user interface of the so-called
Galaxy F
at the Samsung Developer Conference in San Francisco on November 7.
But at least that means
the number one mobile device vendor
out there in terms of unit shipments has decided exactly how this thing will work after years of careful consideration. According to
a new Korean media report
, the decision came late in the pre-production process, and in fact, mass manufacturing has yet to begin.
The experimental product is unlikely to sell in more than 1 million units during its first year on the market, with a small volume of 100,000 units expected to be manufactured initially. That's obviously due to a number of challenges,
build quality risks
, as well as uncertainty regarding actual consumer demand.
A foldable phone sounds very cool in theory, but it's unclear exactly how people might respond to an
even pricier flagship
than the likes of the Galaxy Note 9 with a somewhat chunky body.
The price and overall device thickness have reportedly been bumped up as Samsung finally settled on
a combination of 4.6 and 7.3-inch displays
. When closed, the larger screen on the inside will become inactive, but you'll be able to use the smaller panel on the outside.

Basically, we're looking at a 2-in-1 hybrid here with both smartphone and tablet functionality, although battery life and durability are understandably still major concerns.

To avoid a number of potential issues, the hinge of the Samsung Galaxy F (still an unconfirmed name) will help fold the device "step by step", also leaving a little space between the two halves of the inside screen when folded in to prevent direct impact.
Unfortunately, what's not yet etched in stone is an actual commercial release date. Samsung will most likely unveil the non-foldable
Galaxy S10
first (at or around the Mobile World Congress in February 2019), but then, it's unclear how long we may have to wait.