Here are (almost) all of the RED Hydrogen One key specs and features
4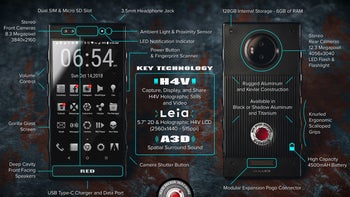 Digital cinematography veteran and innovator RED hasn't had an easy year, struggling to realize possibly the company's biggest ambition yet.
Previewed all the way back in July 2017
, the one-of-a-kind
RED Hydrogen One
smartphone was originally scheduled for an early 2018 commercial release.
While waiting for deliveries of early aluminum batches, as well as
Verizon and AT&T
rollouts, you might be interested to take a look at the (nearly) complete and (hopefully) final list of features.

The RED Hydrogen One specs have never been listed in as much detail as a freshly revealed infographic lays out, including such highlights as "stereo" rear cameras with 12.3MP sensors and 4056 x 3040 resolution and "stereo" front shooters with 8.3 megapixel counts and 3840 x 2160 resolution.

Of course, the "key" technology making this bad boy truly unique in a sea of far too similar high-end Android handsets is a 5.7-inch 2D & holographic H4V LCD panel with 2560 x 1440 resolution, spatial surround sound support, and the ability to capture, display, and share H4V holographic stills and video.

In a nutshell, the RED Hydrogen One has been described as the "world's first holographic 4-view media machine", producing "better than 3D" content viewable without glasses.

But the powerhouse is certainly no pushover when it comes to "conventional" specifications either, packing an extra-large 4,500 mAh battery, generous 6GB RAM, and plentiful 128GB internal storage space.

There's a microSD card slot too if you want even more digital hoarding room, as well as dual SIM support, Gorilla Glass screen protection, "deep cavity" front-facing speakers, a 3.5 mm headphone jack, and a Pogo connector for modular expansion.

The processor and Android version are not mentioned, which is usually not a good sign, although we're still rooting for Snapdragon 845 power and pre-installed Oreo software goodies, at the very least.
Recommended Stories