RED Hydrogen One's release date on Verizon and AT&T gets delayed
8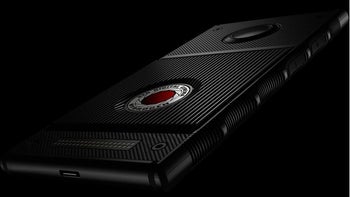 We have no doubts that anything the folks from RED camera produce will be elevated into a cult status, the upcoming
Hydrogen One
phone included, but it's one thing to create niche photo- and videography marvels that cost tens of thousands, and another to drag your ideas and creativity through the realities of a heavily regulated cell phone industry, with all its hardware and software patents, certification requirements, and network testing procedures.
Not that we held our hopes high for the initial summer 2018 release promise, as these things always fall behind, but now RED folks took to the airwaves to express their dissatisfaction with a certification process that is taking longer than expected, meaning a release delay. AT&T already has the Hydrogen One listed with a "fall 2018" release date now, and we only hope that RED will use the time to iron out even more of the kinks that are inevitable with such an ambitious project.

As per Jim Jannard, a project manager, "
we have been pushed back in certification and the carriers are allocating a new launch window
." Our money is on some problem at the FCC, as the phone was last spotted going through the testing grind there, but until we hear more from RED, it's anyone's guess what's causing the Hydrogen One production bottleneck.
As a reminder, RED's H1 is expected to sport a display that doesn't require glasses to show 3D images of the pseudo-holographic type and will have some camera modules that, knowing RED's camera prowess, might be second to none. The rest of the specs are nothing to sneeze at either, starting with the huge 4500mAh battery, and the only ho-hum part is the Snapdragon 835 chipset, which will probably be heavily modified in the graphics rendering department anyway, while the rest is perfectly capable to run anything Android throws at it.
Long story short, those who were hoping to scoop one of the most interesting phone concepts around from
Verizon
or
AT&T
before this month ends, will have to wait for the leaves to start turning yellow - it will make for prettier pictures anyway.