RED Hydrogen One gets specific November 2 launch date, pre-orders will ship in October
9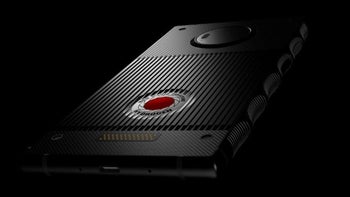 While the vast majority of mobile consumers interested in purchasing a hot new device soon are probably either waiting for Samsung's
Galaxy Note 9
or one of
Apple's next-gen iPhones
, with Google's
Pixel 3
and the
Huawei Mate 20
(
Pro
) also generating some decent buzz, a minority of our readers might be far more excited about the ambitious
RED Hydrogen One
.
Unfortunately, as should have been expected, the groundbreaking project from US-based digital cinematography camera maker Red Digital has hit a number of stumbling blocks in recent months,
leading to significant delays
.
At one point scheduled to start shipping in Q1, the world's first pocketable "holographic media machine" was pushed back just last week from its already revised "summer" timetable to an equally vague
"fall 2018" release
.

But founder and head honcho Jim Jannard promised a more specific schedule would follow, and here it is. Pre-order customers should save the October 9 date, as that's when black aluminum models are now slated to begin shipping, followed by Titanium units, which have "proven to be very challenging in production." As such, Jannard expects the latter batch to be "extremely hard to get for several months even after the official launch."
Alas, that also means Titanium models will only be available from US carriers at some point next year, and even then, you're looking at "very limited quantities." In the meantime, you should be able to buy the aluminum RED Hydrogen One in Black or Shadow from
AT&T, Verizon
, and Mexico's Telcel starting November 2 in exchange for $1,295 a pop. That is, if this admittedly "difficult project" doesn't encounter other difficulties, which is "still possible", according to Jannard, although not very likely.

There's also a way to get your hands on the RED Hydrogen One before October 9, as "extremely limited" developer-friendly "Houdini" models will be offered on a first come, first serve basis between August 31 and September 11.

You'll need to already have a pre-order in place to qualify for the Houdini program, accept some inherent bugs and issues arising from these production samples' running of "pre-release firmware/software", and give up your release model. Instead of that, you'll receive this exclusive Houdini Development model, which you won't be allowed to publicly criticize until after the RED Hydrogen One is actually released.
Recommended Stories