New VR headset Moto Mod, the Motorola Virtual Viewer, surfaces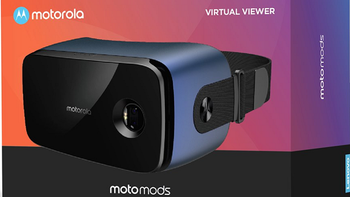 As Motorola works to officially unveil the next-generation modular
Moto Z3
series, we could see a whole slew of new Moto Mod accessories for the entire line going back to 2016's Moto Z lineup. A new tweet disseminated today by prolific tipster Evan Blass, reveals that one of the next Moto Mods will be a VR headset named the
Motorola Virtual Viewer
. Blass leaked an image of the box and the actual headset.
It would appear that the Virtual Viewer will be a Daydream headset, and the phone will connect to the device inside the front of the VR viewer. That would seem to be the case judging from the hole seen in the front of the headset for the phone's camera to pop through, which is found on most Moto Mod accessories. Even with the camera peeking out through the front of the viewer, we don't expect to see this supporting any AR features, although we'd be delighted to be wrong in this case.
We could see the Moto Z3 and
Moto Z3 Play
unveiled in June. As for the Motorola Virtual Viewer, so far there is no word on when it might meet the light of day. Thanks to the "backward compatibility" of the Moto Mod line, Motorola doesn't have to wait for this year's phones to be introduced before it takes the wraps off of any new Moto Mod product.
source:
@evleaks