OnePlus upgrades its trade-in program just before the OnePlus 6 is unveiled
5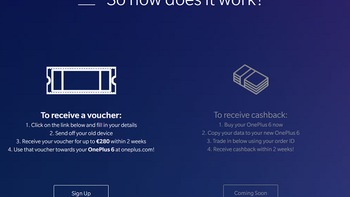 With the
OnePlus 6
expected to be unveiled a week from today, the company announced an improved trade-in program to help prospective buyers save some cash. After all, the OnePlus 6 will probably be the company's most expensive phone yet; notches and IP certification ratings don't come cheaply, you know. With the new trade-in plan, devices from any manufacturer can be used in a trade, but higher values will be given to those products made by Apple, Samsung, Sony, Huawei and Google.
Those turning in a
OnePlus 3
or newer model will find a little extra money in their trade-in checks. OnePlus is offering as much as €280 ($332 USD) for old OnePlus models. This part of the revamped trade-in program expires at the end of this month.
Before you start scrambling through your desk drawers looking for your old handset, there is a geographical catch; this trade-in program is only available to European residents using the Euro, the Swedish Krona, or the British Pound. To participate, click on the sourcelink or go to www.oneplus.com/trade-in. There, you will find the complete instructions (see the image at the top of this story).
You can decide to receive a voucher by sending OnePlus information about your trade. Send them the old device and you'll receive a voucher within two weeks that can be used toward the purchase price of the OnePlus 6. Or, you can wait until the OnePlus 6 is launched and purchase the phone. In that case, OnePlus will give you cash in lieu of a voucher for your trade. Move your data from the old phone to the new OnePlus 6, go back to the www.oneplus.com/trade-in site, and use your order number to request a trade. Within two weeks after your trade is received by the company, you will receive cash for your old phone.
For more information, visit the OnePlus trade-in site by clicking on the sourcelink.
source:
OnePlus