"Blueline" shows up again as codename for Pixel 3 or Pixel 3 XL; mid-range Pixel codenamed "Bonito"
9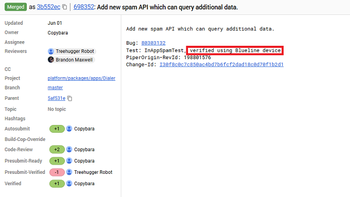 Now, it appears as though the Google
Pixel 3
or the Google
Pixel 3 XL
will indeed carry the codename of "Blueline." That name pops up in an AOSP page under a commit that mentions a "new Spam API that can query additional information." According to the AOSP site, the "InAppSpamTest" was "verified using Blueline device."
We can speculate that "Blueline" is not the mid-range model because of a tweet sent out by tipster Roland Quandt. The latter said that the codename for the mid-range
Pixel
is "Bonito." The Bonito is related to the tuna, although smaller in size, and there is a Blueline Tilefish. Since October, we have not seen "Crosshatch" or "Albacore." A little research discovered that a "false Albacore" is hard to tell apart from a "Bonito." With that in mind, perhaps the "Albacore" was originally the mid-range device and enough changes made to it (for example, the inclusion of the new Snapdragon chipset) that the name was changed.
Based on an image of screen protectors allegedly designed for the Pixel 3 and Pixel 3 XL, we came up with
images that show what these two models might look like
. The first two generation of Pixel handsets were introduced in October, so we could be just four short months away from the unveiling of the next-gen models.