Get an unlocked LG G8 ThinQ at a lower than ever price from a top-rated eBay seller
3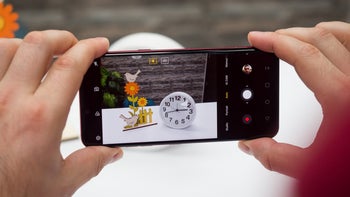 This may sound odd, but because
LG is reportedly gearing up
to unveil
two new high-end smartphones
, the G8 ThinQ arguably feels more compelling than ever. Released just a few months ago,
the 6.1-incher
can be purchased at a massive discount on
Amazon with hands-free Alexa support
, at
Best Buy with monthly installment plans
, or from a top-rated eBay seller in "open box" condition.
When it comes to unlocked devices with absolutely no strings attached, eBay is undoubtedly the best way to go to maximize your savings. Case in point, cph2020, a veteran seller with a 99.6 percent positive feedback score based on 9,000 customer ratings from the last 12 months, will let you save a whopping 460 bucks compared to the list price of a 128GB LG G8 ThinQ.
Of course, that's not an entirely fair comparison, considering you're relinquishing your standard warranty here, as well as settling for a phone that's not technically brand-new, unused, and unopened. But cph2020 claims all the units currently sold at $389.99 a pop have been returned by their original owners within 14 days of purchasing them without incurring any visible damage.
They should also come in an original retail box with all accessories included, shipping for free nationwide as long as you're not in a hurry. At less than four Benjamins, the
relatively well-reviewed
and decidedly overlooked G8 ThinQ certainly has enough going for it, from a sharp P-OLED screen with a resolution of 3120 x 1440 pixels to a state-of-the-art Snapdragon 855 processor, versatile 12 + 16MP dual rear-facing camera setup, a premium glass-and-metal construction, decent 3,500mAh battery, 6GB RAM, the aforementioned 128 gigs of internal storage space, a microSD card slot, and yes, even a headphone jack.
There are also a number of features that help the LG G8 stand out from the high-end Android handset pack, like Air Motion gesture controls, Hand ID recognition, and Crystal Sound OLED technology, but at least for the time being, these can be filed in the gimmicks folder.

Check out the deal here