LG's Dual Screen will be back with a vengeance on the V60 ThinQ
5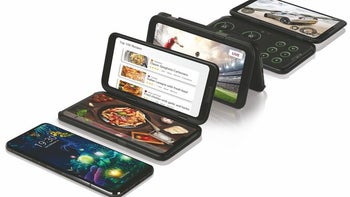 In about three weeks, LG is planning to take centerstage and announce the
LG V60 ThinQ
at the IFA 2019 expo show, and we will be nearby to relay all the festivities to those hungry for ingenious ways to enlarge a phone's display that don't include bending it in the middle at exorbitant prices.
That's exactly what LG seems to be hinting at with its newest V60 teaser that just went out in Korea. The phone will apparently have an
enhanced version
of LG's Dual Screen accessory which the video teaser is referring to below.
When the V50 ThinQ was announced, it had been designed from the ground up to bring more tangible benefits to its owner than its top specs and 5G connectivity. What set the phone apart is an optional accessory you can pick, called LG Dual Screen.

Instead of increasing complexity and prices with a folding display design, LG provided us with the choice to double the screen real estate of the V50 by adding a second display when you need it. Attached with sturdy hinges that rotate 360 degrees, it can be as useful as the second half of a bendy phone's display when unfurled, yet skimps on the drawbacks of designs like folding phones.

LG is betting that it can provide most of the added value of a foldable phone with the Dual Screen option, without breaking the user's bank and rushing into unproven technology, even though it has foldable displays in the lab, and even a TV with rollable screen battling for market glory.

Citing more than 90 usage scenarios in 20 different categories that are made possible by the Dual Screen paraphernalia and the accompanying software, LG gives a few examples of the daily life with the extra canvas, meaning now you can run up to 3 apps simultaneously.
As you can see, having two OLED displays to work on can be a godsend in a few precious ways. We'd put gaming at the top of the list, as we want to play Fortnite without our fat digits gumming up half of the screen, but yes, we can see how productivity, messaging and browsing scenarios can also be appealing for some, too.