iPhone 6 rumors, LG G3 leaks, and the 538-ppi-display LG Isai FL: weekly news round-up
3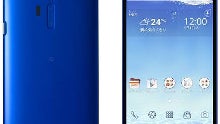 Another week, another dose of rumors around the highly anticipated iPhone 6. This time around, word on the street has it that a new iPhone model could be announced as soon as August, sporting a larger display and bringing design alterations to Apple's iconic handset. And if you're wondering what the iPhone 6 might look like, then look no further than the bunch of leaked dummy units that have acumulated. While we can't confirm whether or not they represent the real deal, they might be onto something as they've been leaking from trustworthy sources.
LG's next flagship smartphone, however, will most likely come to market sooner than the next iPhone. the LG G3, as it is expected to be called, has been leaking from here and there, so we're pretty sure that we have an idea of what the phone is going to look like. And by the way, we won't be surprised if the G3 sports the same mind-blowingly high-res display found on the LG Isai FL for Japanese carrier KDDI.
Follow the links below to learn more!