A new image leak of the LG G3 shows off the brushed effect black and white back plates
84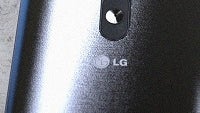 We have pretty much seen the
LG G3
in all its glory for the most part. A tipster sent us another image of the next LG flagship with the brushed plastic effects on a black and white unit.
The picture is medium quality, so there is not much detail other than what we have seen already, but it does accentuate the brushed back-plate motif we saw when the
gold G3 image
leaked a couple days ago.
We are not able to confirm the source that sent us this pic, but along with the picture, the tip did state a 5.5-inch screen for the device. Compared to the recently released LG Isai FL in Japan, the G3 will be shorter, narrower, and thinner, which is an interesting twist to
another rumor floating around about the size of the device
. Furthermore, the source says that the back plate is removable. We are not sure that would be part of the final package in all markets, but a removable back piece is certainly a possibility for some areas.
While we get to see the black and white somewhat clearly, what we presume to be a gold G3 up top is resting with the screen-side up. The finish looks a lot more polished than one might expect at first. Overall, the picture is consistent with other sightings of the LG G3 that have made their way to the internet.
May 27th should tell us more
, but we will always take an early peek if the opportunity arises.
Thanks to our anonymous tipster for the image!