iPhone 6 goes up against the Galaxy S5 and iPhone 5s in these leaked pictures
77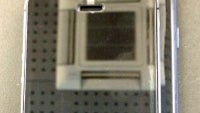 As we're moving forward through the calendar, leaks about Apple's upcoming iPhone 6 are beginning to get more and more common. And how wouldn't they? Enterprising individuals who have successfully infiltrated Apple's supply chains know just how badly we want to see what the company's going to come up with this year.
Luckily for us, today won't go without a much-needed fix of iPhone 6 info! And you know what? It's actually quite the juicy leak we're talking about. Italian site macitynet.it has published a number of images that are said to reveal the iPhone 6 in all its glory, but that's not all. The source of the photos has even pitted the iPhone dummy against two of its eventual competitors - the Galaxy S5 and the iPhone 5s.
As you can see in the images, the iPhone 6 device is just slightly smaller than the Galaxy S5, reaffirming the rumors that there's going to be a 4.7" display on board. At the same time, we can feast our eyes on what seems to be a very slim, almost all-metal body that's visibly thinner than that of the iPhone 5s. In our opinion, it kind of looks like the iPad Air, so it does seem believable for the iPhone 6 to look like that. An additional detail we're able to spot is the power key, which has now moved to the right hand side of the device (as opposed to the top), similarly to that of the Galaxy S5. Naturally, this is a preferred positioning in large smartphones, since it makes it easier to reach the often-used power key.
One thing that makes us doubt the authenticity of this leaked iPhoen 6 dummy, though, is the LED flash on the back of the phone, which appears to be just a single LED flash, and not the True Tone dual-LED one that debuted in the iPhone 5s to mostly positive reception. Well, we can never be sure - perhaps Apple has found a way to integrate both LEDs in the space of just one? Hopefully, the next leak will be able to clear this mystery up. But now, please go ahead and take a look at this mostly realistic-looking iPhone 6 dummy and how it compares against the Galaxy S5 and iPhone 5s!
source:
macitynet.it
,
more
via
GSMArena