iPhone 5 processor to be based on the quad-core Exynos 4, phones with Qualcomm quad-cores coming in Q4
29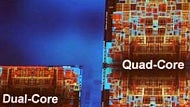 The quad-core smartphone family will be extended in the fourth quarter, says Digitimes, on account of the new Apple iPhone, and Qualcomm's quad-core chipsets entering devices for the holiday shopping craze.
It isn't exactly a revelation that Apple might place such a chip in its iPhone 5, since we heard rumors that Cupertino's engineers are testing the
next generation A6 with four processor cores at the TSMC foundry
earlier this year. Actually we last heard that
Samsung will be producing the A6
, and now the sources confirm that this quad-core A6 is none other, but
modified quad-core Exynos 4 series
, which is already running in the international version of the
Samsung Galaxy S III
. This means a 32nm HKMG package made in Samsung's Austin, Texas factory - a pretty powerful combination.
Now back to Qualcomm - its
quad-core APQ8064A
is a monster of a chipset, since it integrates multimode LTE radio, and is built on the 28nm process too. Besides, those will come with the most powerful graphics processor -
Adreno 320
- that Qualcomm has in its quiver, so phones with quad-core Snapdragons should be beasts as well, with
HTC One XXL
already rumored to be one of them.