Samsung to supply A6 chip for iPhone 5
25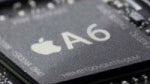 It seems that regardless of the contentious legal battles being waged between Apple and Samsung around the world, Apple still sees Samsung as a "critical business partner". A report from the Korean Times says that Samsung will indeed supply the quad-core A6 chip which is expected to power both the iPad 3 and the iPhone 5. The same report also says LG is still likely to be the supplier of the iPhone 5 display.
Apple had been looking at
TSMC as a possible
supplier of the A6 chip, but that job looks to have fallen to Samsung. The report says that TSMC will still produce customized chips designed by Apple, but that it will be limited quantities. The A6 will instead be made by Samsung using its 28-nanometer processing technology. This information is from an anonymous Korean parts supplier for Apple, who said that Samsung has been ramping up production of the A6 chip in a plant in Austin, Texas.
Neither Samsung nor Apple has officially commented, but it is interesting to note that Samsung Electronics Chief Executive Choi Gee-sung told reporters that the legal issues between the companies are being kept separate from the business relationship the companies share.