iPad Air 2 and iPad mini 3 to support Apple Pay online, but not tap-to-pay
1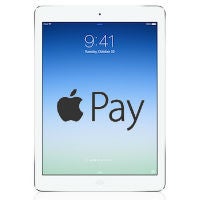 It has basically been known that the new
iPad Air 2
and the iPad mini 3 would be getting TouchID sensors, but that left questions about how and if Apple Pay would work with Apple's new tabets. Well, Apple has finally answered those questions, and the answers probably shouldn't be much of a surprise. You probably don't want to be tapping your tablet to a pay console in a store, so Apple isn't offering that option.
So, both the new iPad Air 2 and the iPad mini 3 will support Apple Pay, but only for online purchases, not for tap-to-pay. Presumably, this means that neither tablet includes an NFC chip, but that has yet to be confirmed. This also explains why Apple has been so insistent to point out how many retailers will be accepting Apple Pay for
online payments
throughout today's announcement.
Just like for other Apple devices, Apple Pay is launching this coming Monday, October 20th, but you will need iOS 8.1 first. Of course, with the new iPads not shipping until next week, having Apple Pay on launch day won't be an issue. It is unclear right now, but it does appear as though Apple Pay will only work with the new iPads, and will not work with devices that don't have TouchID, even once you get iOS 8.1.
source: Apple