Apple iPad Air 2 goes official: world's thinnest tablet
The Apple iPad Air 2 has just gone official, and it's even thinner than before. The new iPad Air 2 is just 6.1mm (0.24") thick, allowing Apple to claim the
'world's thinnest tablet'
title with it. That's 18% less than the already thin 7.5mm on last year's iPad Air.
The iPad Air 2 features a 9.7-inch display, the same size as before, but this time the screen has been laminated: we have the LCD, cover glass, and touch sensor optically fused, thus eliminating gaps and allowing for these new, very slim profile. The new slate is also lighter, weighing 0.96 pounds, while last year's Air tipped the scales at exactly 1 pound.
Apple iPad Air 2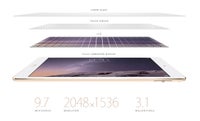 Apple A8X: 3 billion transistors
The other big highlight of the new iPad Air 2 is the Apple A8X chip with 64-bit architecture and 3 billion transistors. In comparison, the Apple A8 in the
iPhone 6
and
iPhone 6 Plus
features 2 billion transistors, while the A7 featured 1 billion. We can also safely assume that the new A8X is manufactured using the 20nm process.
In practical terms, Apple's A8X comes with a 40% faster CPU than the one in the iPad Air with Apple A7. The bigger jump comes in GPU performance where we're looking at a 2.5 times faster speeds. The latter, combined with the new Metal APIs (that Apple claims are 10 times more efficient than OpenGL) is bound to allow for more immersive games.
The new iPad Air 2 also features a Touch ID fingerprint sensor with support for Apple Pay. The M8
motion
co-processor from the A8 is also on board on the tablet.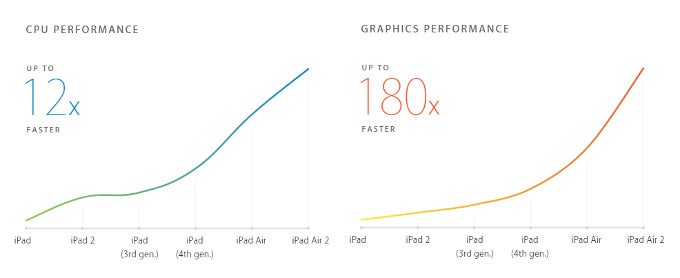 Refreshed camera: 8-megapixel, with slow motion
The cameras on the iPad Air 2 have also gotten a refresh. The new tablet now features an 8-megapixel camera, up from the 5-megapixel shooter in the previous generations. This new camera has a sensor with 1.12 micron pixels (smaller than the 1.5 micron pixels on the iPhone 6, for instance), with a lens with f/
2.4
aperture.
This new camera is capable of recording video at up to 1080p Full HD resolution, and the whole imaging experience is powered by a new and more powerful image signal processor in the Apple A8X. The front-facing FaceTime camera features a 1.2-megapixel resolution with 720p HD video recording.
Connectivity: LTE bands galore, a new Apple SIM
The new iPad Air 2 gets a twice as fast Wi-Fi 802.11ac connection with MIMO support, and can now reach download speeds of up to 866Mbps.
The cellular modem of the tablet, on the other hand, supports a whopping 20 4G LTE bands with speeds reaching as much as 150Mbps on the downlink. Interestingly, a brand new Apple SIM card comes pre-installed, allowing you to easily pick between different carriers, so that you can easily get a short-term plan that works best for you at that moment. Neatly, you can also use this to grab a local data card when roaming and use local tariffs rather than paying hefty fees.
Battery life
With all of this, the iPad Air 2 has retained its excellent, 10-hour battery life. The 10-hour longevity is a battery standard that Apple has adhered to ever since it launched the first iPad, and it's impressive that the company manages to pack a large enough battery in the very slim iPad Air 2 body.
Apple iPad Air 2: release date and price
The Apple iPad Air 2 now arrives in three colors with the new one being gold. The prices remain as before, but there is a slight change in capacity, similar to what we've seen on the iPhones:
16GB iPad Air 2 Wi-Fi/LTE: $499/$629
64GB iPad Air 2 Wi-Fi/LTE: $599/$729
128GB iPad Air 2 Wi-Fi/LTE: $699/$829
The iPad Air 2 release date is set for Friday, October 24th, but you'd be able to pre-order it tomorrow, on October 17th.