iPad 5 may be up to 25% lighter than current model, says analyst
34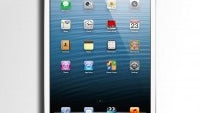 While there are tons of things to like about the current
iPad
model, its weight is surely not on top of that list. The fourth-gen iPad weighs 652 grams (10 grams more if you have the 4G version), meaning that it's actually heavier than the 2-year-old
iPad 2
.
Yet Ming-Chi Kuo – a KGI Securities analyst who has been keeping a close eye on Apple products for a while, predicts that the "iPad 5" will bring a drastic improvement in that aspect. In fact, its weight might go as low as 500 or so grams, which would make the next iPad about 25% lighter than the current model.
Using a smaller battery might be one of the ways Apple would bring the iPad's weight down. The iPad 4 packs a 3-cell battery with a capacity of over 11 000mAh, while its successor is expected to be equipped with a 2-cell battery of 8500 to 9000mAh. Yet that will not necessarily reduce the device's battery life. The brains of the iPad 5 (or whatever it's called) may be a next-gen A7X system-on-a-chip, which is likely to be more energy efficient, all the while being powerful enough to deliver excellent user experience.
Using IGZO display panels with smaller backlight LEDs
would also help with keeping the tablet's weight low.
Furthermore, the analyst expects Apple to reduce the 9.5-millimeter thickness of the iPad by up to 2 millimeters. That may be achieved by using a thinner battery cell, but also by implementing slimmer display panels. The iPad 5 will most likely adopt the iPad mini's design and may have a slimmer bezel on both sides of its screen.