Apple iPad Air Review
68

Update

: You can now read our iPad mini 2 review!
Introduction
Oh the
iPad
. It did spark something when it was first introduced back in 2010, and since then, it has continued to be a favorite amongst the masses. It sparked something revolutionary no doubt, as its design and operation brought forth something so alien that redefined the entire category. Heck, before its arrival, it was pretty bleak, as tablets weren't commercially available in a variety of options – as they are now, of course.
The competition has been relentless and fierce over the course of the last year alone! From the horde of Android tablets that blend beefy specs with low price points, to the introduction of various productivity centric Windows powered tablets, Apple's beloved iPad has more to contend with in winning over consumers who are starving for the latest and greatest. Although it's still sitting atop of the ladder, Apple's latest model in the
iPad Air
seems to have enough quality elements to fend off the competition at bay. However, does it have enough to actually hold the position for the next year?
The package contains:
Lightning USB cable
Wall charger
Documentation
Design
Wow! Now that surely took one heck of a long time, but the iPad is finally getting a deserving facelift with its design. Come to think about it, the last three versions of the iPad employed the same design, but with this 5th generation model, it's getting a long overdue redesign that no doubt has some serious appeal – and that's without seeing any compromises with its legendary solid construction!
With the "Air" attached to this latest model, it undoubtedly means that we're getting treated to something exquisitely thin and lightweight – a polarizing characteristic that what makes it so darn attractive. Employing the same design introduced by the iPad mini last year, the iPad Air is a refreshing change of scenery for this full sized offering, although, it still bears many of the iconic elements of the iPads past.
Somehow, they've been able to shave another 0.07-inches from its profile, bringing it to a razor thin 0.3.inches, which betters the previous 0.37-inches. At the same time, the weight of the iPad Air has also been reduced to a single pound – down from 1.4lbs! Indeed, it might not seem very dramatic on paper, but holding onto it, we're instantly reminded how unobtrusive it is in the hand. Furthermore, it continues to be one of the more solidly constructed tablets out there, which is attributed to its sturdy brushed aluminum casing.
Just as before, the iPad Air features all the same ports and buttons around its trim – so it consists the power button, volume control, mute switch, speaker grills, microphone, Lightning docking port, and 3.5mm headset jack. Even though it's not something we'd jump to use at first glance, the iPad Air nonetheless features a front-facing 1.2-megapixel camera, and a 5-megapixel rear auto-focus camera.
All told, we really dig the incremental improvements Apple has made here – all of which help to liven things up with the series. Sure, it might not feature a biometric Touch ID finger print sensor, which was introduced recently by the iPhone 5s, but we're not entirely bummed by the omission. At the end of the day, it's thinner, lighter, and still employs one of the best constructions out there, so what's not to like about it?
Display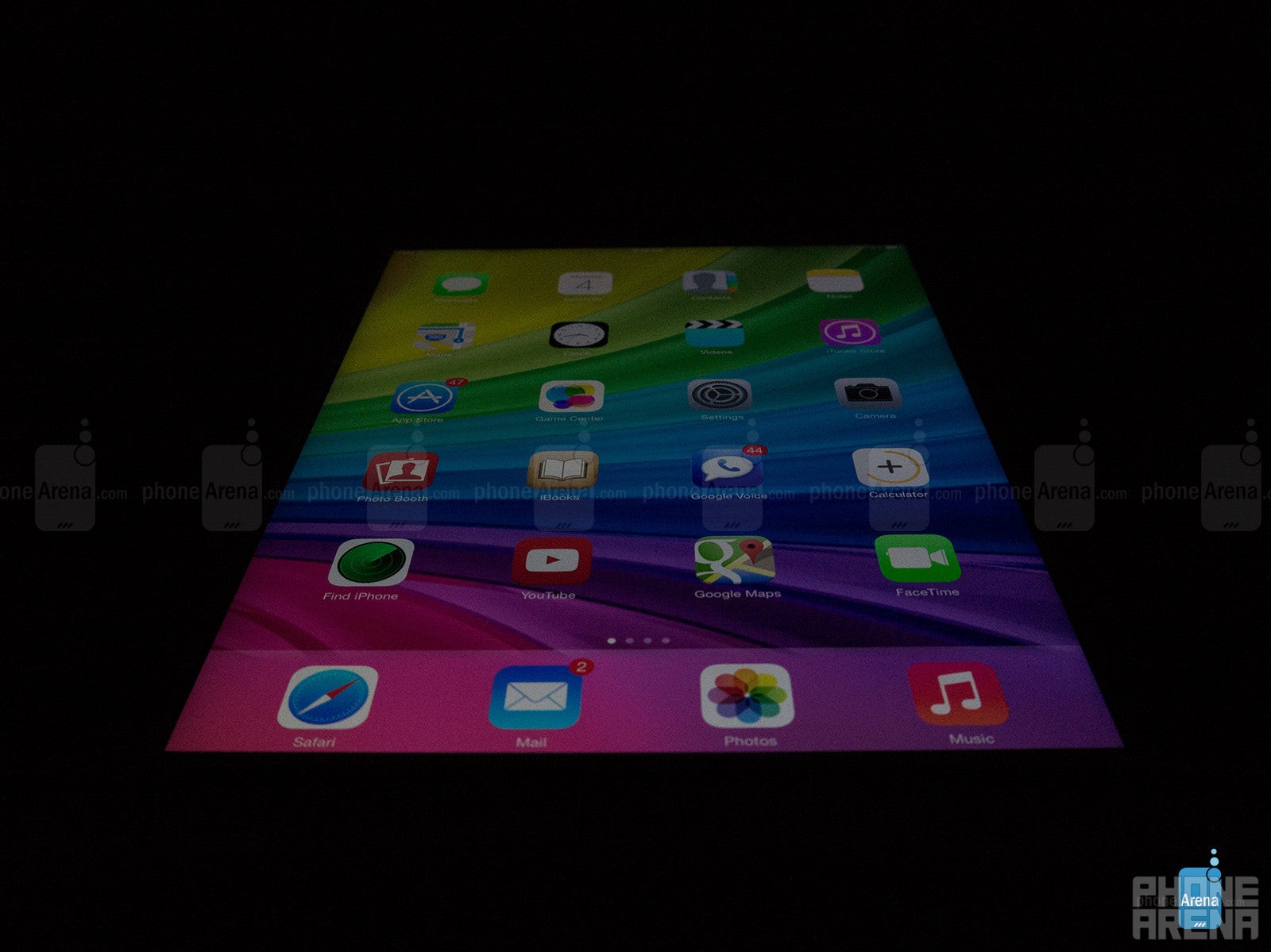 Apple surely pushed ahead in making the iPad Air thinner and lighter than its predecessors, but somehow in the back of our minds, we wish it too pushed the envelope with its display. However, that's not the case, seeing that it features the same display that was first introduced with the 3rd generation iPad. Regardless of that, there's no arguing that its 9.7-inch 2048 x 1536 IPS LCD based Retina Display is one sharp looking panel. In fact, its pixel density count of 264 ppi is a pretty fine figure – enabling it to produce plenty of details.
Relying on good ol' IPS LCD technology, it's rich with many endearing qualities that make it sight to behold. Specifically, we get wide-viewing angles, punchy looking very realistic colors, and superior outdoor visibility.
Display measurements and quality
Recommended Stories