iOS 4.2 now ready for Apple iPhone, iPod and iPad
8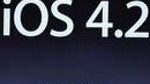 After a little delay, which we
reported
on earlier this month, Apple has finally released iOS 4.2 which brings some new features to the Apple iPhone, iPod Touch and iPad. Gaming aficionados will enjoy the new Game Center. Certain games will allow you to take on friends or be matched with an opponent automatically. And if you are the bragging sort, your top scores can be posted for all to see while you can check out the titles that your pals are playing.
AirPlay is a new service that allows you to stream video, music and pictures from your Apple mobile product to Apple TV. You will also be able to send audio to AirPlay enabled speakers that will soon be coming to market. AirPrint takes those annoying drivers out of the equation as it prints using technology that features Wi-Fi. AirPrint enabled printers will include HP LaserJet Pro, HP Photosmart and HP LaserJet brands.
Lose your Apple mobile device? With the new OS upgrade, you can find your lost iPhone with the Find my iPhone (or iPod or iPad) app even without a subscription to MobileMe. With the service, you will be able to spot your missing device on a map and even set it up to make a noise or show a message. Data can also be remotely wiped or locked.
The Apple iPad seems to benefit the most from iOS 4.2. "iOS 4.2 makes the iPad a completely new product, just in time for the holiday season," said Steve Jobs. Apple's CEO continued, "Once again, the iPad with iOS 4.2 will define the target that other tablets will aspire to, but very few, if any, will ever be able to hit." Some of the new features include being able to rent a T.V. program from the iTunes app for 48 hours once playback starts. (You get 30 days to start watching the show)
To download the new iOS 4.2, sync up your device with iTunes 10.1. The software works with the Apple iPad, Apple iPhone 3G, 3GS and 4 and the second and third generation of the Apple iPod Touch.
source:
DailyiPhoneBlog
Recommended Stories