iFixit tears down the Samsung Galaxy S6 edge – insides are neat, but tight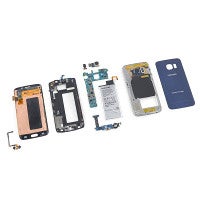 The guys over at iFixit got their hands on a
Samsung Galaxy S6 edge
and did what they do best – took it apart, slowly, patiently, and meticulously recording each and every step of the process. The handset's insides look neat, tidy, and snug, but overally – the phone is not much easier to take apart than the
HTC One M9
, which was
torn down
a couple of days ago. Access to the battery? No dice, as the juicebox is hidden behind layer upon layer of components.
Samsung's duo of flagships this year boast a design language, which has thus far been
foreign to the company
– a glass-and-metal construction, oozing of choice materials, in a generally enclosed phone – no more removable back cover, no more user-replacable battery, nor a microSD card slot. But alas, that's the price one has to pay, it seems, in order to get a gadget, with looks that match its tag.
The iFixit repairability score is 3/10, pretty bad, but if we look back – the Galaxy S5 wasn't very repair-friendly as well, as it required the display to be removed from the device for access to anything other than the battery.