iFixit introduces a $30 transparent back panel for the GSM iPhone 4, pure plastic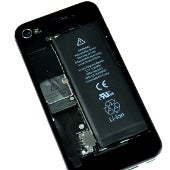 If you are one of those folks who get fascinated by the inner workings of your gadgetry, you have no doubt been following the disassembling exercises of iFixit
with the iPhone 4
and
other gizmos
.
Now the site has taken the efforts to their logical extension. iFixit introduced a completely transparent back panel for the iPhone 4, made of plastic, which allows you to show the world the marvels of mobile device engineering inside Cupertino's finest every time you lift the phone.
There is a step-by-step guide for replacing the panel, which basically consists of removing the two Pentalobe screws by the dock connector, and pushing the back panel up so you can safely pry it off, and insert the clear panel in its place:
An added bonus of the
$29.95
transparent back panel is that it is plastic-fantastic, so you wouldn't care about scratching it too much. If you want everyone to see your iPhone 4's guts, you are obviously not into all that boutique design nonsense in the first place. For now iFixit only offers the transparent rear panel for the GSM version of the iPhone 4, since the Verizon one has differences in design, and there's no word if/when it will be offered for the CDMA iPhone 4.
source:
iFixit
via
Electronista