BlackBerry PlayBook gets the teardown treatment
3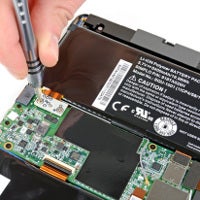 The guys at iFixit have decided to do what they do best with the newly-released
BlackBerry PlayBook
, so they have put it through its paces to check out its hardware parts and how easy it is to repair.
Among the pros of the tab, iFixit lists the fact that it's easy to discover its guts - there is no need of sophisticated tools to make that happen, as standard ones will do the job just fine. Moreover, the motherboard is easy to remove.
It's not all roses, though, and the lads at iFixit say it's a bit unfortunate that the hardware parts of the BlackBerry PlayBook are located under the display assembly rather than the rear case. The result is that the usually simple task of reaching the battery is not that easy with this tablet, as it requires the removal of the whole motherboard. Another con is that the cameras and the control buttons are placed on the same assembly, which means it's going to cost you dearly if you have to replace the power button or the volume rocker.
All in all, iFixit gave the tab a final repairability score of 7 out of 10, which is pretty respectable. For more info on the tablet, feel free to read our
RIM BlackBerry PlayBook Review
.
source:
iFixit