Google Maps goes greener with expanded integration for bike-sharing app Lime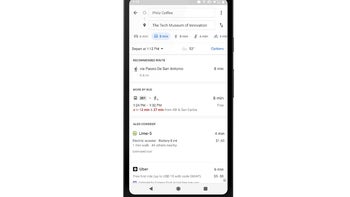 Google Maps can be incredibly useful nowadays for more than just showing you the fastest way to get from A to B. The world's most popular web mapping service is also capable of offering various context-aware navigation options to help you reach your destination using the most convenient travel method available around you at all times.
That includes public transportation, as well as
rides hailed through popular apps Uber and Lyft
, and for the past few months, even Lime scooters, pedal bikes, and e-bikes. For those unfamiliar with the fast-growing service, Lime was created a couple of years back as LimeBike, changing its name in 2018 following several successful rounds of funding during which even Uber invested in its ride-sharing "rival."
That's obviously because Lime's goal is actually different from that of Uber or Lyft, providing customers with dockless vehicles they can ride themselves, generally on shorter distances than a car. As
Google pointed out back in December
, when the app was integrated with Maps, that can be exceptionally helpful for traveling "that last mile" after taking a bus or subway and discovering no ridesharing vehicles are nearby. Or if you need something to help you dodge that pesky traffic congestion during rush hour.
Either way, you can now see relevant information about eco-friendly Lime transportation options directly in the Google Maps app in
more than 80 new cities around the world
. These join a list of only 13 cities supported at launch, including several dozen additional US locations, from Little Rock, Arkansas to Mountain View, California and from Boise, Idaho to Salt Lake City.
Both Android and iOS users can check out not just the nearby locations of Lime vehicles in Google Maps on their phones, but also estimations of ride costs, total journey times, and ETAs. If everything looks good, you can then jump to the Lime app straight from Maps and follow the instructions there to unlock a scooter, bike, or e-bike. That's a lot of possible hassle saved, and of course, if you don't have Lime yet, Google Maps will direct you to the Play Store or App Store to download it.