Arrange an Uber or Lyft ride from inside Google Maps
11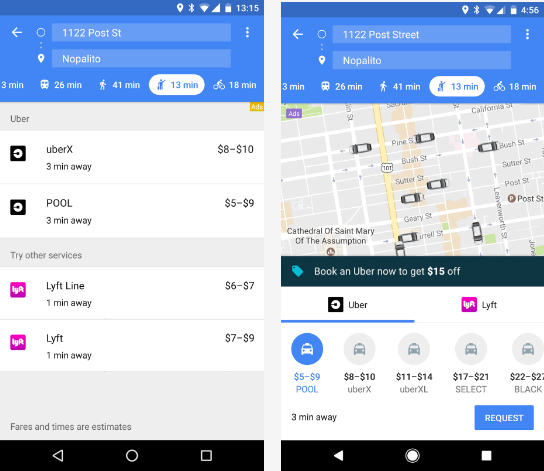 Allow Google Maps to arrange a ride from companies like Uber or Lyft
Google Maps now allows you to arrange a ride from Uber, Lyft or other ride service providers directly from the Maps app. Opening the ride sharing mode on Maps will show you a carousel with options for users to choose from. Tapping on one of the providers will also reveal any deals being offered by them. Even if you don't have the Uber app installed on your phone, you will be able to arrange and pay for an Uber ride through the Google Maps app.
And there is more. During your Uber ride, Google Maps will give you information about your destination. So if your Uber is taking you to a restaurant, Google Maps will alert you to its specialties, hours of operation, and will even show you the menu with prices (where available). In addition, you'll get to see ratings, the times of day when the place is crowded, and more.
Google continues to expand the capabilities of Google Maps to take it far beyond that of a mere mapping app. With information about where you are heading at your fingerprints, and the ability to arrange transportation to that location just a couple of taps away, Google Maps will soon be the only app a traveler will need.
source:
Google