Best Buy has the feature-packed Garmin Vivoactive 3 Music smartwatch on sale for only $170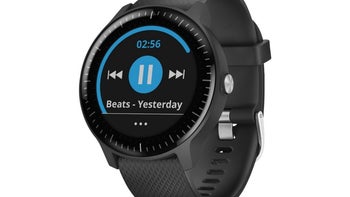 The best thing about
Garmin releasing
so
many new wearable devices
over
the last few weeks
might actually be how cheap you can get the company's older smartwatches nowadays. Some of these oldies, by the way, are essentially just as feature-packed as their successors, which makes them pretty incredible bargains at lower than $200 prices.
For 24 hours only, the popular Garmin Vivoactive 3 Music, for instance, costs a measly $169.99 at Best Buy after a hefty discount of 80 bucks. As the (excessively long) name suggests, this is a model equipped with "ample" music storage space (4 gigs, most likely), allowing you to play your favorite motivational songs (up to 500 of them) while working out without having to stay connected to a compatible smartphone.
Of course, the Android and iOS-supporting smartwatch can't also make calls on its own, go online by itself to stream music, or even play the aforementioned tunes without the assistance of a Bluetooth speaker or headphones. Aside from all that, though, this bad boy can pretty much do everything solo, from monitoring your heart rate to tracking your position during your morning runs with built-in GPS functionality, making wrist payments, and distinguishing between 15 different types of athletic activities.
Your smartphone notifications, texts, and alerts will be displayed on a relatively large 1.2-inch transflective screen sporting a resolution of 240 x 240 pixels, which can also squeeze the most out of the smartwatch's battery. Namely, up to 7 days of endurance on a single charge without GPS usage or music playing. The two power-hungry features will naturally massively reduce your battery life to as little as 13 or even 5 hours.
Last but not least, it's worth highlighting the Garmin Vivoactive 3 Music is fully swim-proof with a 5 ATM water resistance rating, a 43mm case made from polymer, and a black silicone band in this particular variant sold for only 170 bucks at Best Buy.