Brydge G-Type keyboard promises to turn your Pixel Slate into 'more than a tablet'
2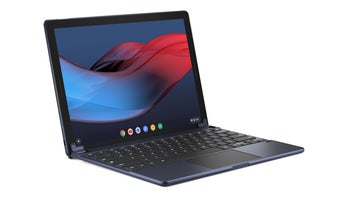 Three whole years after releasing an Android-powered
Pixel C
tablet that was never really taken seriously as an iPad rival, Google decided to follow up last year's Pixelbook laptop with a Chrome OS-based
Pixel Slate
.

This is significantly less powerful, at least in a $599 entry-level configuration with Intel Celeron inside, but for an extra $200, you can purchase a very interesting keyboard cover with circular keys and pogo pin connectivity.

If you're looking for a more conventional productivity-enhancing attachment with standard square-shaped keys and a "laptop-like" feel, the Brydge G-Type is here to deliver just that at a slightly lower $159.99 price.

This is obviously a third-party option from a company self-described as an "emerging leader in high quality consumer electronic devices" and, more specifically, "premium tablet keyboards."

Designed "exclusively" for the Pixel Slate, the G-Type is "Made for Google", meeting all of the search giant's quality requirements, as well as featuring standard Chrome OS shortcut keys and a dedicated Google Assistant key.

Instead of the magnetic pogo pin system, this uses Bluetooth 4.2 technology to connect to the Google Pixel Slate, while physically attaching to the tablet base in a sturdier, "laptop-style" way.
You can then pass the
Pixel Slate
as an actual notebook computer, as well as fold the tablet on top of the keyboard or tilt it at different angles for an always comfortable typing and content consumption experience.

A "patented U shaped hinge" ensures ease of insertion and removal, while the multi-touch trackpad is apparently the "largest ever" such thing implemented on a wireless keyboard. Brydge also boasts "best-in-class typing" as a central selling point, with only 1.5 mm of key travel, while the battery is said to last up to a whopping six months on a single charge.

The keyboard is made of "high-grade aluminum" to match the "style, color, and feel" of the Pixel Slate, but unfortunately, the pre-order date is to be announced "by the end of October", which probably means you won't be able to get the Brydge G-Type for several more weeks.