Bose is selling its premium noise-cancelling wireless headphones for only $199 on eBay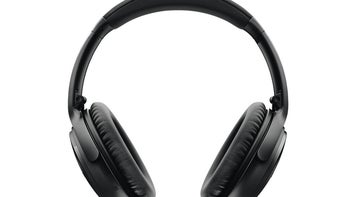 There are only two major brands you need to consider if you're in the market for a pair of premium over-ear wireless headphones with top-notch noise cancellation technology and a reasonable price point. We're talking about Sony and Bose, whose tremendously well-reviewed products are often impossible to set apart in terms of sound quality, comfort, and other key features.
Instead, what makes the
Sony WH-1000XM3
and
Bose QuietComfort 35
shine from time to time are killer deals and discounts. Case in point, the older Series 1 version of the latter can be purchased right now at $199, which represents a massive $150 reduction from its $349 list price. One of the very important details you have to take into consideration before pulling the trigger, however, is that these are "factory renewed" devices you're looking at here rather than brand-new, unused, and unopened units.
But it's actually Bose that sells them alongside the same 1-year warranty typically offered with untouched products. The manufacturer also explains the "renewal" process these headphones have gone through before being put on sale again, which includes thorough inspections and testing to ensure compliance to some "strict performance and sound quality standards."
The company promises you won't be able to notice any difference between these heavily discounted accessories and brand-new units in terms of both their visual appearance and especially audio performance. Speaking of, it's also important to point out that the Bose QuietComfort 35 Series I and II are practically identical when it comes to specs and features... save for voice assistance.
At $199, you will forgo the built-in Google Assistant and Alexa support of the Series 2 headphones while still getting "world-class" noise cancellation, 20 hours of battery life, and a winning design that perfectly blends style and durability, tipping the scales at less than 250 grams.