BLU launches crazy affordable Bold N1 'flagship' with pop-up selfie camera
17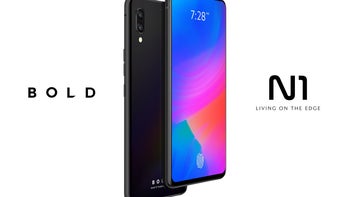 After launching an
upper mid-range rival for the popular Moto G7
at a very competitive price and
two entry-level handsets
with pretty remarkable specifications in the last couple of weeks alone,
BLU Products is debuting an affordable new flagship model today
... under a new brand.
The Bold name will be synonymous with "premium flagship" and "flagship-like" devices going forward, aiming to bring smartphone prices "back to reality." But while a lot of people can certainly agree north of $1,000 is a little too much money to ask for most of today's flagships, it's hard to believe the $250 Bold N1 is the solution to this problem.
On paper and at first glance, this bad boy definitely comes with a lot of "flagship-like" features and design elements, including a no-notch 6.4-inch AMOLED display, pop-up selfie camera, in-screen fingerprint sensor, and support for both 18W fast wired charging and 10W Qi
wireless charging
. Of course, actual "all screen" flagships these days generally pack more than 4 gigs of memory and snappier processors than MediaTek's Helio P70.
At $250, you might be concerned about the build quality of the
Bold N1
as well, which combines premium metal and glass while employing a motorized pop-up front camera system that can be a major reliability hazard if not executed flawlessly. Until seeing the phone in action, though, all we can do is trust BLU's promises and keep our skeptical hats on. Naturally, we want to believe this product is as good in real life as it looks in theory.
Incredibly enough, a $50 launch discount brings the Bold N1 down to
$199.99 on the official website of BLU's new spin-off brand
for a limited time. On top of the already mentioned features, the crazy cheap "flagship" also comes with a generous 128 gigs of internal storage space, a hefty 3,500mAh battery, 13MP resolution for the aforementioned pop-up selfie shooter, a 16 + 5MP dual rear-facing camera setup, and yes, even a good old fashioned headphone jack. That's simply astounding!