Apple's Beats Powerbeats3 wireless earphones hit a new all-time low price of $49 (refurbished)
2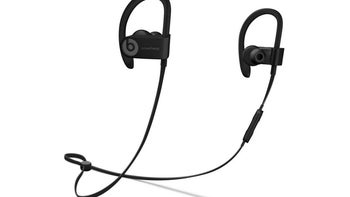 Considering the "totally wireless"
Powerbeats Pro
are now
widely available in the US
for $250 a pair, it's obviously hard to justify the purchase of the older and not-completely-wireless Beats Powerbeats3 earphones at their $200 list price.
First, the Powerbeats3 on sale at Walmart for a measly $49 a pair are not technically sold and shipped by Walmart. A third-party seller called VIP Outlet handles all that, which might be a categorical deal breaker for some potential buyers and bargain hunters. On the bright side, this is a four-star rated Walmart partner and a 96.2 percent positively reviewed eBay seller that describes itself as "North America's largest refurbisher of retailers'/manufacturers' product."
That brings us to the second "catch", which is pretty obvious. You're looking at refurbished units here, seemingly "certified" to work and look as good as new (or at least close enough), although it's not clear if you're also getting a warranty. Based on the same aforementioned eBay description of this top-rated seller, we're guessing you will be covered against functionality issues for 90 days from the time of your purchase.
But even if that's not the case, this is the type of deal that you shouldn't overthink. The Apple-endorsed Beats Powerbeats3 headphones are simply too good to turn down at a crazy low price of $49, what with their water-resistant design, excellent 12-hour battery life, blazing fast charging technology, "high-performance" sound (at least in this price bracket), and comfortable secure-fit earhooks.
Check out the deal in black and white here