ZTE files patent application for folding display
3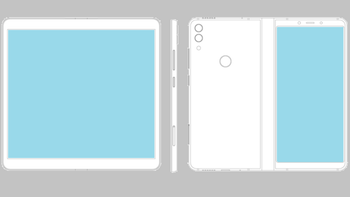 Unlike the Axon M, but
similar to the form factor unveiled last month by Samsung
, ZTE's patent reveals an external screen in front. On back is dual camera setup and a fingerprint scanner. When fully opened, the device becomes a tablet. ZTE didn't include the screen sizes in the patent application, but the size of the tablet display will be twice the size of the external screen. And unlike the device Samsung displayed last month, the external and internal screens are the same height. It should be noted that ZTE filed the patent application on February 27th of this year.
During the first quarter of 2018, ZTE was the fourth largest smartphone manufacturer in the U.S. But
thanks to the export ban that took place during the spring and summer
, Motorola took over that position during the second and third quarter of this year, according to data from Counterpoint. With the U.S. government accusing Huawei and ZTE of being national security threats, it is doubtful that a ZTE foldable device would make its way to North America.
Recommended Stories