YouTube Originals to be free by 2020, supported by ads
6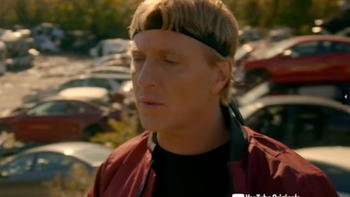 You know that you've wanted to watch
Cobra Kai
, the series that picks up from the Karate Kid movies 34 years after the events in the films took place. After all, the show stars Ralph Macchio and William Zabka reprising their roles as Daniel LaRusso and Johnny Lawrence, respectively. But Cobra Kai is a YouTube Original series, which means that you have to subscribe to YouTube Premium and pony up $11.99 per month in order to view the show and other original content on YouTube. Of course, YouTube Premium also includes ad-free viewing of the platform, and the ability to download videos to view while offline.
As noted this morning by Variety
, YouTube is going to make its original programming free by 2020. The shows will be supported by ads. Until then, YouTube will offer both free originals and other programming that will be available only to paid Premium subscribers. For example, to view the second season of Cobra Kai next year, users will still need to subscribe to YouTube Premium.
But this will change in 2020 when YouTube offers its original programming free to the nearly 2 billion people globally that use the YouTube streaming video site/app. Part of the reason for the switch is to help show creators, writers, actors and others reach a larger audience.

"As we look to 2019, we will continue to invest in scripted programming and shift to make our YouTube Originals ad supported to meet the growing demand of a more global fanbase. This next phase of our originals strategy will expand the audience of our YouTube Original creators, and provide advertisers with incredible content that reaches the YouTube generation."-YouTube
Since YouTube doesn't have as large a budget for originals as competitors like Netflix and Amazon, it has relied on programming staring YouTube "stars." This helped create demand for YouTube's own programming, which has led the Google owned video streamer to add new shows like Cobra Kai.