You can now bring your Galaxy phone to Xfinity Mobile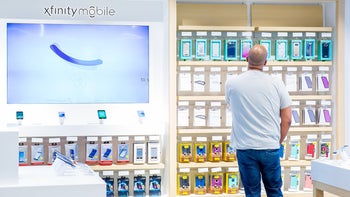 Discount carrier Xfinity Mobile, that you can easily bundle with a Comcast Internet service and reduce your phone bill, has announced that it is
adding the option to bring your own device (BYOD) for the first time for Android phones
.
You will be able to bring a Samsung Galaxy S9, S9+, S8, S8+, Note 9 and Note 8 to the Verizon-based network. It has also supported BYOD for the iPhone 6 and newer iPhones since 2018, and Comcast said that more Android devices are expected to get BYOD clearance "later in 2019".
Those who port their number to a new line are also getting a $100 prepaid Visa card bonus.
And if you don't happen to own one of the compatible devices, you can still make use of Xfinity Mobile's device trade-in program and switch to one of the phones that the carrier is selling, such as the Apple iPhone XS, Samsung Galaxy A50, and a few others.
Xfinity Mobile launched in April 2017 as a mobile virtual network (MVNO) that operates on top of the Verizon Wireless network, so it can use the nation's largest 4G LTE network and brings customers access to some 18 million Wi-Fi hotspots in the United States.
Xfinity Mobile launched as an additional service that you can bundle with a Comcast Internet offering and save a lot over a traditional cell phone carrier bill. Keep in mind that the Xfinity Mobile will work best for those who barely use any mobile data as it charges no line access fees for up to five lines, while still providing unlimited talk and text. The one caveat is that you only have 100MB of shared data, so you will need to pay extra for any extra data that you use.
There are two ways to pay for additional data: you can either pay $12 per GB, or opt for the "unlimited" option at $45 per line. Keep in mind that the "unlimited" option is capped at 20GB of 4G LTE use.
Recommended Stories