Yarn allows you to send short movie clips to your Facebook Messenger pals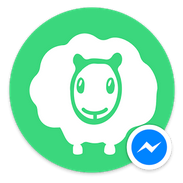 Facebook's Messenger has been allowing its vast userbase to send each other GIF files via third-party addons, with some of the more popular ones being Giphy, GIF Keyboard, and Bitmoji. GIFs are great, there's no denying that, but a relatively new app that stormed the Play Store not long ago aims to step things further.
Meet Yarn for Messenger, a nifty app that allows you to send short video clips to your Messenger contacts. The available video clips are all from classic and popular Hollywood movies; they are usually merely a couple of seconds long and often feature an iconic catchphrase or a scene.
The app is only available for Android right now, but we suppose that it will hit Apple's App Store in the not-so-distant future. It's free to use, so go check it out - who knows, you might end up liking it!
Download: Yarn for Messenger (
Android
)