Xiaomi to unveil new smartphone on January 4th: Redmi 1S dual 4G edition expected
6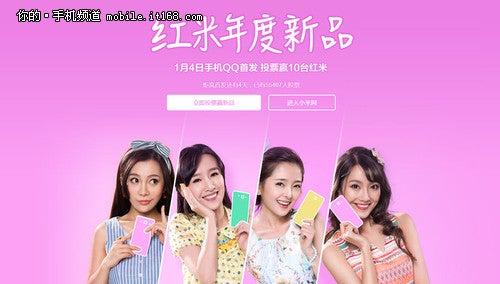 Xiaomi, the Chinese phone maker that is making waves across the industry with its handsets that offer unprecedented value for the money, will unveil a brand new device on January 4th, with a second event expected on January 15th for a second big launch to mark the start of the new year.
What will Xiaomi unveil on January 4th? Expectations are that it will be an updated version of its extremely affordable Redmi 1S, a device in the class of the Motorola Moto G (2014), but with an even lower price tag. The new Xiaomi Redmi 1S is expected to target the Chinese market chiefly, as it will bring support for 4G LTE for China Unicom and China Telecom, the two smaller carriers, as well as for the gargantuan China Mobile.
This new Xiaomi device might be called the Redmi 1S Dual 4G. The other big highlight is expected to be the color: the phone should be available in black, white, red, orange, yellow, green, cyan, blue, and purple (it's also possible that its plastic shell is interchangeable).
Hardware-wise little will change: it's still expected to feature a 4.7" 720p HD display, a 64-bit Snapdragon 410 system chip with four Cortex A53 cores, 1GB of RAM, and 8GB of internal storage. In terms of cameras, we're looking at an 8-megapixel main shooter and a 2-megapixel front cam. Battery size is 2200mAh, and all of this runs on Android 4.4 KitKat with the MIUI skin.