Windows Phone users dissed by Philippine carrier
46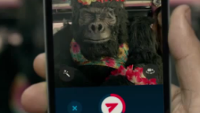 It has to be a rough life for Windows Phone users. They miss out on some of the more popular apps, and by the time a version is made for the platform, the rest of the smartphone owning public is already on to the next cool app. What sucks even more is when Windows Phone becomes invisible to professionals in the industry who should know better.
Let's take Philippine carrier SMART. The mobile operator is promoting free usage of the Skype QIK app for the next three months. There is one caveat. The deal is available only for the carrier's iOS and Android totin' customers. Ironically, in the ad the carrier promotes that the app is available in the Windows Phone Store as well as the Apple App Store and Google Play Store.
Skype QIK first launched back in October, and
replaces text messages with a short video
. Group videos can also be sent. And while a thirty second commercial from SMART reiterates its availability from the Windows Phone store, you need to look at the bottom of the screen to see that the carrier's free offer is not available to Windows Phone users.
One last note of irony. In 2011
a major tech company purchased Skype for billions of dollars
. The company? Microsoft.
source:
WMPoweruser