Windows 10 on a phone will arrive with universal apps, wallpapers and new notification system
90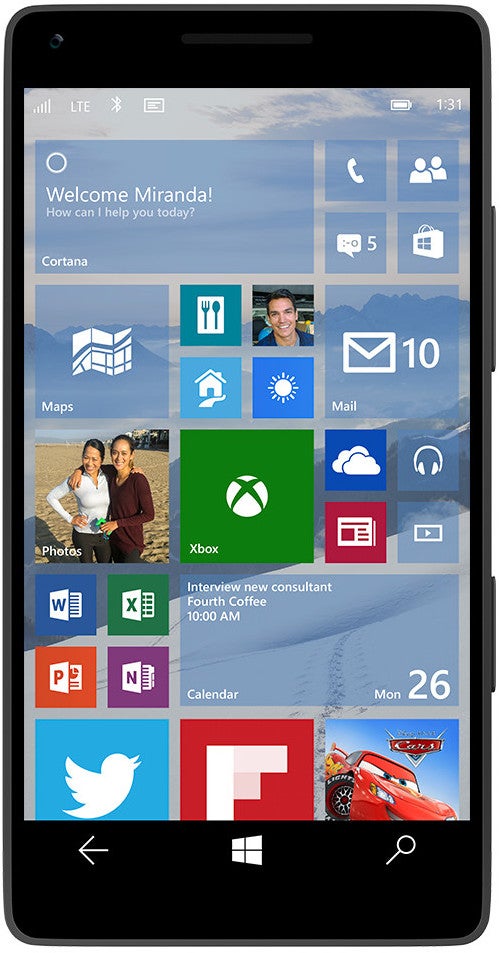 Microsoft has been very clear about designing its new
Windows 10
OS with unification in mind. From what has been said today at the Win 10 presentation, it seems that, even though visually the OS will still look a bit different across devices, under the hood it will all be very similar, sharing a common kernel, and a common app store. This should be a relief for all the disgruntled Windows app developers out there.
The tile Universal touch-friendly interface section now pops up front and center only if you detach the screen part of your convertible device, for instance, and stays out of the way when you have your keyboard attached in laptop mode. Microsoft demoed the new universal Notifications system, too, which will keep it all synced across phones, tablets and laptops. Deleting a notification will make it disappear on all gear, for instance. Microsoft has a new toggles menu in store, with taps for GPS, silent mode, and a rudimentary settings menu.
Windows 10 for phones will now include the full mobile versions of Word, Excel and PowerPoint. The Office ribbon has been downsized and tailored for smaller displays, and yet staples like Track Changes will now be present on Win 10 smartphones, too. You will also have the option for wirelessly beaming presentations and other documents through Miracast, or to a connected printer.
The live tiles are still here, and are livelier than ever, populated with real-time information. You can also add backgrounds freely behind those, but the most important part are the so-called universal apps. These will be apps like Office, for instance, which will be one and the same running across phones, tablets, and laptops, with only the interface icons and menus adjusted to fit the various screen scenarios - small, large, touch, non-touch an so on. The same goes for all staple Microsoft programs, like Outlook, but also will be asked from developers of third-party apps down the road, making sure the software will run with the closest similarity possible on all your Windows gear, as you can see in the slideshow below.
This continuity will be gradually tested over the next few months until the final Windows 10 release hits everything - from your ultrabook, through your 8" Windows tablet, and even
lower-end Lumia phones will be getting it
, all
free of charge
- a seismic shift for Microsoft indeed.