Liveblog: Microsoft's Windows 10 event
20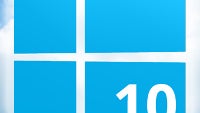 And here we are, ready to give Microsoft yet another shot at actually impressing us with its mobile software. The Windows 10 event the Redmond company is going to hold to day will, naturally, be centered around the latest info it has to share about the upcoming Windows 10, and hopefully that includes some details here or there with regards to the platform's mobile portion as well.
What do we know about the so-called Windows 10 (mobile) so far? Well, pretty much next to nothing, besides the possibility of it being even more closely related to its desktop sibling. But, we'll see. Chances are that Microsoft will be feeling guilty enough after what it did to us with Windows 8, so it'll probably be good enough to shed some light on the matter.
Welcome to our liveblog! Just sit back, relax, and enjoy the show as it unfolds. Yeah, it's that simple!
EVENT START TIME: 9 AM PT | 10 AM MT | 11 AM CT | 12 PM ET | 5 PM GMT | 6 PM CET
Some images courtesy of TheVerge.
Recommended Stories