Will Andy Rubin introduce Gingerbread and Google Nexus S on December 6th?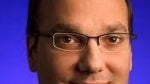 Last week, we
reported
that there was a chance that Google CEO Eric Schmidt would be introducing Android 2.3 (Gingerbread) and the Google Nexus S at the Web 2.0 Summit. While that didn't happen, the executive
did say
that both the software and the phone would be released in a few weeks. And that brings us to the D: Dive into Mobile conference on December 6th when Google's Andy Rubin is scheduled to make a speech.
Rubin, the acknowledged "Father of Android" will be opening the conference which would make it a perfect time for him to introduce the new Gingerbread OS and the first handset to run it. And the date would meet the timeline brought up by Google CEO Schmidt last week. Things usually don't fall into place so perfectly, but it certainly would make sense to circle December 6th on your calendar.
source:
AndroidGuys
Recommended Stories