Will Gingerbread get launched tomorrow directly by Eric Schmidt?
1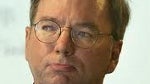 We
have seen
the Gingerbread Man descend upon the Googleplex. We
have even seen
a batch of Gingerbread Man cookies getting cooked up for the cafe at the Googleplex. In fact, we have seen just about everything related to Android 2.3 except the actual introduction of the OS.
As
we told you
, Google is under intense pressure from Samsung to get this software out before the end of the year so that the Korean based manufacturer can get its Gingerbread flavored Android phones launched before Tegra 2 dual-core devices are released early in 2011.
On Monday, Google CEO Eric Schmidt plans on kicking off the Web 2.0 Summit in San Francisco with a speech entitled, "A Conversation with Eric Schmidt" and no specific topics have been mentioned. Later in the day, Nikesh Arora, Google's president of Global Sales Operations and Business Development, will talk in front of the audience. While neither speech mentions Gingerbread, Android 2.3 or anything related to Google's open source OS, there is nothing that says otherwise either.
Perhaps by Monday evening we will know all about the next great chapter in the life of the globe's hottest mobile operating system. Or, we might just be sitting around looking for more clues about an imminent release of Gingerbread.
source:
AndroidCentral

Will Android 2.3 be introduced by Google CEO Eric Schmidt during his speech on Monday at the Web 2.0 Summit in San Francisco?
Recommended Stories