Google Nexus S Review
20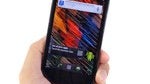 Introduction:
Less than a year since its introduction, Google's ambitious nature in the mobile space has changed somewhat after they unleashed the
Google Nexus One
. Back when that device was first unveiled, the mobile community gasped out many wonderful words seeing that it was a truly iterative device that seemingly continued Android's reach to the masses. Looking back at it now, the Nexus One was the epitome of a top shelf device thanks to its strikingly beautiful design and flare with Android 2.1 Eclair. But rather than following the tried and true process, Google decided to buck the trend and sell the high-end smartphone directly to the consumer – and without the aid of carriers!
Depending on who you talk to, the Nexus One was considered to be a landmark and polarizing device, while others simply saw it as a giant big flop for Google. Naturally, the company learned from their experience in that they really need to consider other venues to promote or sell future devices. However, there was a point when it seemed as though we'd never see another Google branded device – especially after the less than impressive sales of the first. Yet, it was widely panned as an underground success by developers and hardcore programmers all around.
Knowing that Google would only learn from its mistakes, it's come back strong in announcing the
Google Nexus S
which is being manufactured by Samsung. Sporting a new maker and sales process, the Google Nexus S employs some new technology under the hood and a stock Android experience that's untainted, virgin, and unadulterated to truly showboat the open platform. Arriving just in time for the busy holiday season, it'll be interesting to see whether or not it has the staying power to attract the attention of smartphone users who are hungry for the next big thing.
The package contains:


Google Nexus S
Wall Charger
microUSB cable
Stereo Headphones
1,500 mAh battery
Terms & Conditions
Health & Safety and Warranty Guide
Design:
Instead of finding a device that's undeniably different in design from everything else out on the market, we're treated to yet another Samsung Galaxy S lookalike – not to mention some common hardware as well. Needless to say that it doesn't necessarily come off as awe-inspiring, but rather, it looks as though Samsung refined their successful smartphone. In fact, this slate device is a bit more rounded in the corners and sports a completely clean facade. And looking at it from the side, it bears a slight curve to its profile. Its all plastic body does well in keeping it extremely light (4.55 oz) and streamlined (0.43"), but it does have a constant attraction to the usual set of smudges, fingerprints, and scratches. It's not to say we're not pleased with the design, but when we've seen this constantly used, we were expecting to see something a bit more innovative to truly make it a standout.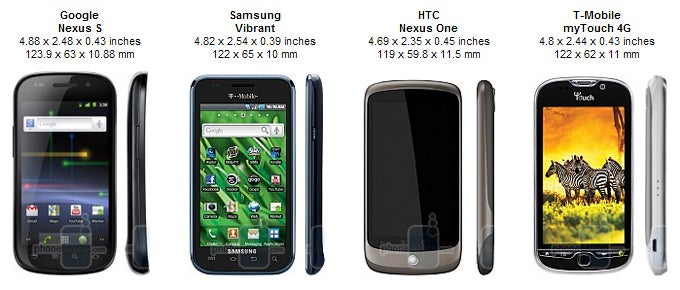 You can compare the Google Nexus S with many other phones using our
Size Visualization Tool
.
Meanwhile, its
4" Super AMOLED display
with WVGA (480 x 800) resolution and support for 16.7 million colors will undoubtedly be a head turner. However, Samsung has approached the Nexus S with a slight modification with it's now dubbed "Contour Display." Even though you don't notice it looking at the display up front, you can view the subtle distinction towards the top and bottom portions. However, it's only a cosmetic thing which provides an alluring appeal to the handset, but doesn't prove in any way to be advantageous over other displays. Again, its high resolution screen is super sharp and is complemented well with some deep and galvanizing looking colors to make your eyes melt. As always, it's also very responsive to the touch, offers good viewing angles, and emits some serious luminance to light up a room.
Directly above the display and next to the earpiece is a 0.3-megapixel
front-facing camera
which can be used for self-portraits or video chat.
Even though we adore the clean look of its surface, attempting to figure out the placement of its
capacitive buttons
is a nightmare. Again, the layout is different as we're presented with the following buttons from left to right – back, menu, search, and home. We constantly find ourselves struggling to figure out where they are because the back lighting is so dim – and not to mention the occasional accidental presses that accompany it.
Luckily, Samsung improved the feel of its volume rocker and dedicated power button, which are located on the
left and right sides
respectively, seeing that they're more distinguishable to the finger and offer a better tactile response when pressed. However, Samsung flip-flopped the placement of the 3.5mm headset jack and microUSB port as they're now located in the
bottom edge
of the phone. Still, it works well there since they are spaced far enough from one another to not feel too cramped.
On the rear
, we see the 5-megapixel auto-focus camera which is surrounded with a silver colored border and the LED flash sitting close by. Furthermore, there are two notches close at hand which are for the speakerphone. Moreover, removing the back cover will provide you access to its battery and SIM card slot, but more importantly, we find the NFC chip embedded into the cover as well.
Recommended Stories