Eric Schmidt has Google Nexus S in hand, says that it and Android 2.3 just a few weeks away
6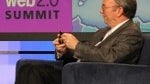 Saying that he has an "unannounced phone from an announced manufacturer" in his hand, Google CEO Eric Schmidt introduced the Google Nexus S at the Web 2.0 Summit in San Francisco. The executive says that the phone will be launched in a few weeks and considering that the T-Mobile name was on the prototypes, it would seem that the nation's fourth largest carrier will have first crack at the device, which is manufactured by Samsung.
Schmidt also fudged a bit when he said that Google did not break his pledge that Google would not produce a Nexus Two since the model is the "Nexus S". He also noted that the phone would be powered by Android 2.3, but did not mention if it would have a dual-core processor under the hood. As we
reported
, Russian tech writer Eldar Murtazin sent out a tweet saying that he had hands-on experience with the Google Nexus S and that it did indeed have a dual-core processor. However, hearing it from Murtazin is not exactly like hearing it directly from Eric Schmidt.
Google's CEO did say that besides the phone coming out in a few weeks, Google will release its next version of the open source OS, Gingerbread, also sometime in the next few weeks. There has been
speculation
that Google is currently revising Android 2.3 to optimize it for use on dual-core handsets.
Also, no word yet on Gingerbread.
source:
Engadget
Recommended Stories